Turning Point: First, The Heart Trouble
My blog has a new name and wider focus, this change being part of some mysterious personal turning point. The blog is getting much more personal.  The new title:
EMAILS TO MY THERAPIST:  Here's the first of these emails, this time a saga of the heart:
Dear Nicholas, 
This change didn't start in the emergency room. It was already pulling at me. But what happened has sure speeded up or deepened the process.
Bob and I were eating supper at La Farm; it was a "date night," December 13. He was pretty quickly ready to go, saying his jaw was hurting. We were in separate cars. When I got home a few minutes after him, he was standing in the kitchen, asked me to drive him to an urgent care.
I was surprised.  Didn't know he'd been hurting that bad — and he'd never made such a request before. We headed out — it was after 9— discovering along the way that all those places were already closed. We ended up at the Wake Med hospital ER in Apex.
When he'd described his symptoms to the receptionist at the front desk, she said to me in a tone of surprise, "He's very calm."  We both were, hadn't seen any reason to be worried. Several tests and almost four hours later, the doctor came back in, sat down beside Bob's bed.
"I'm going to draw you a picture," she said. She drew a heart with an aorta coming up out of it and a bulge in that artery.  Turns out the problem is called aortic dissection in the ascending arch: a tear on the inside layer of the vessel and blood pooling between the layers and pushing against a weak spot in the outside layer. An aneurysm. As we later learned: It could burst at any moment.
I remember leaning my forehead over to touch the top of Bob's head. We were both stunned, yet still not fully taking in the seriousness.
After multiple phone calls, the doctor said a surgeon was waiting at Duke Hospital and Bob would probably be transported by ambulance.
"Ambulance?!" Bob said. Doc said, "It's that or helicopter….This is an emergency…It's a big deal."
We were starting to get the idea. I drove home to pick up a few items for a hospital stay, got to Duke at 3:30 a.m. He was in a dimly lit hospital room full of doctors and nurses making preparations. The anesthesiologist said to him, "Sounds like you're going to have a little something done." He answered with his own wry good humor.  The "little something" was, of course, chest-cracking open-heart surgery. He was not happy about this prospect, but the only question I recall him asking was how soon he'd be able to go back to work.
Full of bravado, I told him I'd see him in a few hours for lunch.
I felt pretty okay as long as I was with him in the room; he seemed his usual self.  But then his bed was wheeled out toward Surgery and I saw him twist his head back to try to make eye contact one more time. Too late. The bed was rolling away too fast.  That was when tears started plopping from my eyes, on my face and dress and the floor. (Tearing up again now, writing this.)
I carried the plastic sack of "patient belongings" and the quilt I had brought from home out to the waiting room to wait.  The sun was just coming up and from that glass-walled room on the 7th floor, I could see such a wide sweep of the world: the roof and tower of Duke Chapel, trees, more buildings, a huge plaza criss-crossed by already-busy sidewalks around a Christmas tree lighted in white.
I'd asked the medical folks not to come out and tell me about stages of the cutting as is sometimes done. I didn't want to picture it. I said, "Just come out at the end and tell me everything's fine."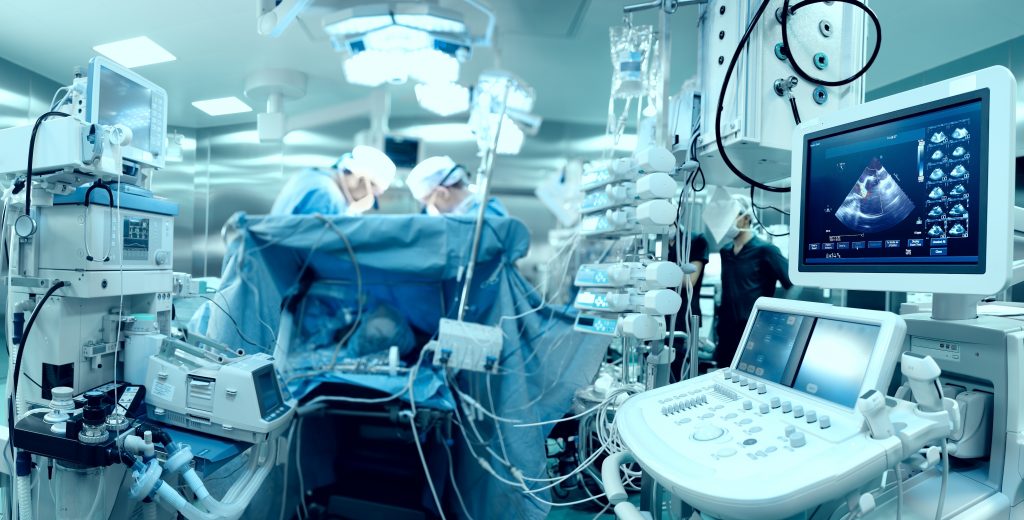 Rolled up in my quilt on a sofa, I also prayed, sending messages to my father who didn't live long enough to meet Bob: "Daddy, if you see him, send him home."
Seven and a half hours later, I woke up in early afternoon and within minutes the surgeon appeared and sat down with me. He said, "He's alive…." But then he told me about the crisis on the table, when the aneurysm collapsed as soon as it was touched and he'd had to slow blood flow to everywhere but Bob's brain and that any of several of his body's systems could have failed. He might not survive. If he didn't wake up today, it would be "a bad sign."
This good doctor looked so exhausted and unhappy, said he'd done what he could. As he stood up, I said, "What do you expect?" He said, "I don't know."
In the time before I was allowed to see Bob, I made a few phone calls. My brothers headed for the hospital: Harry from Raleigh; Franc, three hours away, from Wilmington. Mainly then, I cried; felt pierced by the sight of one of Bob's shoes that had slid partway out of the bag of his stuff. Finally I covered it up.
When I was let into the ICU, I was glad to see all the tubes and blinking machinery attached to him, breathing for him. It meant he was still alive. Two surgeons sat at his doorway, there if they should be quickly needed. Nurses beside the bed were calling his name, "Robert, Robert," trying to wake him.
"He goes by Bob," I said. We all shouted "Bob," trying to get him to respond in some way, to move a hand, squeeze a hand. In only a few minutes he did.  Then he moved a foot, then the other foot. So we knew he wasn't paralyzed.  Within half an hour he opened his eyes and within an hour he motioned that he wanted something to write with (he couldn't speak because of the breathing tube.) I gave him what I had handy, a Wal-mart receipt from my pocketbook. He made some marks on it.
Gibberish was what it looked like, which scared me. I said, as if in ordinary exasperation, "Bob, I can't read this," and threw it aside.
My brothers took it over to a stronger light and studied it like a treasure map and reported: "It says 'water.' …He wants water."
Not gibberish at all. He was making good sense.
Well, from there it was all good. The next morning, he woke me up, pointing out that it was quarter to nine. I'd spent the night in his ICU room on the "loved one" bed under the window. He asked me to please hand him his laptop and then he proceeded to email his patients, explaining the situation and canceling appointments. I was astounded. It felt truly miraculous.
A strong recommendation: If you ever need any tricky emergency work on your aorta, go to Duke Hospital, where every person we met was so extraordinarily competent and so kind to us, and get Dr. Ryan Plichta to do the operating. He accomplished what he wasn't even certain was possible. The Apex hospital ER folks did a life-saving good job too.
We finally learned what a close call we'd had. One of the medics told Bob, "Most people who have what you had don't make it to the hospital….This is the most dangerous thing we get here."
After a week at Duke and about five more at home, Bob and I  returned this past Monday to a close approximation of our lives before. The main difference is a near-continuous sense of wonder that we get this chance.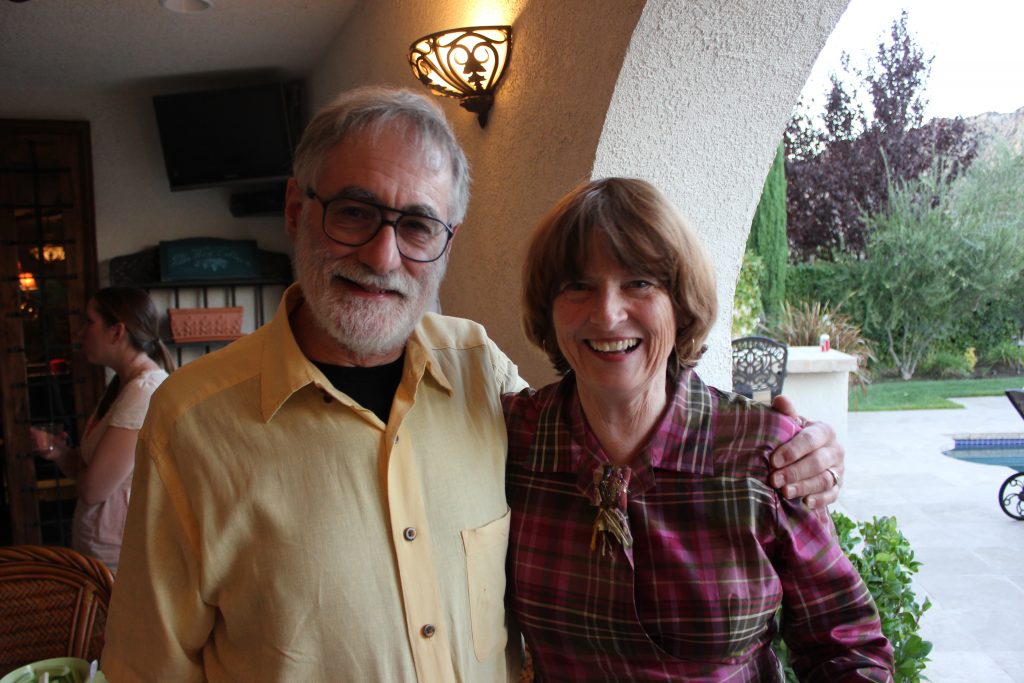 Other differences are emerging too, for one thing, the part this experience is playing in a turning point for me that I don't yet fully see or understand.  I'll tell you more about that — as much as I know — on another day.
Peggy
(Note to reader: Even though my posts now are "emails to my therapist," I welcome comments from you as well.)
Categories: Uncategorized
Tags: ambulance, aneurysm, aortic dissection, Apex hospital, ascending arch, burst, date night, Duke Hospital, emergency room, God sex death, helicopter, life changes, open-heart surgery, patient belongings, Ryan Plichta, therapist, troubled heart, urgent care, Wake Med