My Tactic for Living a Hyper-Vivid Life
Nicholas, Writing these notes to you makes me see my life/self a little differently. The experience is a lot like keeping a journal in the three months I spent in Varanasi doing research for my novel Sister India. Then I was writing what I felt/thought/observed hour by hour, to have the tastes and smells of what it was like to live there. It was continuous note-taking. That's when I discovered this way to live a more vivid life.
SELF-ABSORPTION
These emails I'm writing only about once a week; however, I'm paying attention more intently all the days in between. This can feel like embarrassing self-absorption and/or owning the lived time more fully and intensely than any other. That long-ago winter in India is mine in such vivid specifics that it seems like a bonus life. Of course, the place, so exotic to me, played a large part in that extra-vivid life.
From Varanasi notes: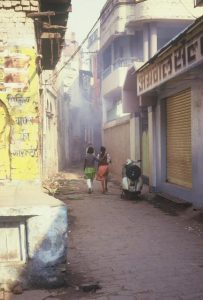 *"moon comes up thin crescent   sky a little smoky  dusty pink coral    kids on the next balcony start calling come to my house   they're nice kids, but they don't let up   they want me to sing a song   I sing Happy Birthday  they say sing a Madonna song"
*"walking back I come up on trouble at the intersection…much milling about in a threatening ominous way   I ask a man standing up on a stoop next to stall  what's going on   he says fighting    I keep moving  staying along the wall    police have barricaded the road…"
AMPED-UP LIVING
I wish I'd kept a journal all my life. But I haven't wanted to do still more writing at the end of a writing day.  I'd like to have such a record, though, as a resource and to have had the experience of paying closer attention. I'd like to have had all along the hyper-lived, vivid life feeling that my India journal gave me. And that these emails do.
A TOOL OF AVOIDANCE
Now I'm remembering one other time I kept a journal, when I was covering the NC legislature for UNC-TV in my mid-twenties. More than forty years ago. It was about the teeming world inside the legislative building, not about me. Not about the rise and fall of my first marriage during that time. Would include a sample, but surprise: I can't find it!
I remember you asking me years ago if I was writing down the events and turnings of my spiritual experiences and experiments. I was sure I didn't need to. How could I possibly forget?  Should have written it down.
AND SO TO WRITE ABOUT RECENT DAYS
Still feeling the blowback from so many serious family illnesses.  Mostly my personal weather is fine, particularly when I'm fully concentrating on whatever I'm doing. Leisure hours, however are dappled with mild depression. And I have a huge hunger for sleep. Lots of naps and sleeping late. Just the recent shocks of mortality, I suppose.  I'm gradually getting over it.
DEPRESSION STRATEGY
I let the periods of depression run their course, rather than fighting them off with distractions. I've never been sure whether to push away depression as best I can or to go down without a fight and hope it rolls past faster. Hard question. What do you think? What do other people do?
Other people, what do you do about this?
INTERVALS OF BRIGHTNESS
The swift coming and going of these clouds reminds me of when Bob and I went to Paris on a long ago Christmas Day to celebrate my fiftieth birthday and our fifteenth anniversary. It was winter; the weather was gray and cold much of the time. One morning the TV forecast for the day was "intervals of brightness," a wonderfully positive way to describe the situation.
I now report a few intervals of grayness. But no more than that.  Trying not to feel I should have shaken them off already.
Peggy
Categories: Uncategorized
Tags: depression strategy, embarrassing self-absorption, getting over it, hunger for sleep, hyper-lived, India, India journal, kept a journal, NC Legislature, note-taking, Paris, paying attention, positive way, serious family illnesses, shock of mortality, spiritual experiences, tactic for living, UNC-TV, Varanasi, writing day