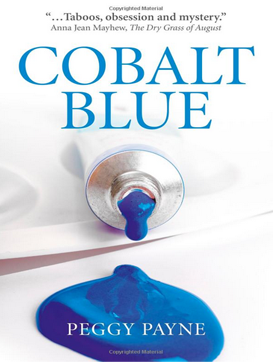 Winner of a 2014 IPPY for Visionary Fiction
Prepare to be shocked. Prepare to be moved. A novel for courageous readers and seekers, Cobalt Blue is a turbulent, erotic ride into compulsion, obsession, shocking spiritual experience, unmentionable attractions, and ultimate empowering redemption.
Burned out from work and a break-up, Andie, a 38-year-old commercial artist in a small Southern town, hungers for whatever will force her out of her familiar limits and has a sudden, shocking religious encounter, kundalini rising, the physical experience of tantric enlightenment.
When this mysterious, seductive yet terrifying brush with the divine catapults Andie into compulsive sex, she must search out what has seized her to try and stop her new and disturbing cravings.
Andie's spiritual hunger and struggle to regain control of her mind and body are complicated by a too-close connection with her glamorous parents, especially her magnetically attractive father, and by working closely with a bigoted U.S. senator, the man who for her personifies evil.
Her story takes her from the elegant golf town of Pinehurst, North Carolina, to the raucous and shadowy byways of pre-Katrina New Orleans, with pauses in India, Ecuador, and other exotic locations.
"Beautifully intense."

Kelley Harrell, Huffington Post
"A novel of ideas… a pilgrimage… a scorcher."

Ben Steelman, Star News
"Cobalt Blue is entrancing and unsettling, a novel that gets at the marrow of sexual and spiritual experience. Peggy Payne is one of our most gifted writers "

Angela Davis-Gardner, Author of Butterfly's Child, Plum Wine
"An engrossing story of the spiritual awakening of a painter who becomes so obsessed with sex that she nearly loses her sanity. Payne strips away the barriers to female passion "

Barbara Hand Clow, Author of The Liquid Light of Sex
"Zesty … entertaining and rich in detail "

Oscar Hijuelos, Pulitzer Fiction winner, author of Mambo Kings Play Songs of Love
Makes Shades of Grey seem like Amateur Night. Not for the sexually squeamish…Peggy Payne is our occult Colette.

Dan Wakefield, author of Going All the Way, Returning: A Spiritual Journey, and others
"Gorgeously lyrical, Cobalt Blue ventures into dark psychological territory before the light finally rises. This bold story deals with frightening hypersexuality, unwanted religious experience, and hard-won transcendence. With its Jungian underpinnings … this beautifully written novel will appeal to anyone fascinated by boundaries, taboos, obsession, and mystery "

Anna Jean Mayhew, Author of The Dry Grass of August
Excerpt
Up ahead the light was brightening on the metal roofs, the white of frame houses, glare rising by the second. Riding into a town, the long-awaited Swansboro, jump-off point to the Outer Banks' bottom tip. The beach was going to fix everything. The road swung right and all at once sun sparked off water on every side, the blast of light so gorgeous it felt like a high piano note all around her.
She wanted to slow and bask in the sensation but the traffic carried her out onto the bridge. Seagulls skimming and diving off to the right. So much to see and all of it shockingly vivid.  This was how she'd felt in the studio: exultant!  She had hold of it again. Such a swoop of delight, expansiveness…As if airy spaces between her cells had widened, as if she'd physically lightened.
But—already it was slipping away: the fullness and ease. She was plummeting, back into ordinary. Or worse.
She let out a shaky breath. Definitely it was gone. And so quickly. She pushed down disappointment. Because after all, the feeling had returned, a trace of it, a few seconds of the unearthly surge of well-being. Tears—of gratitude—rose in her eyes. Now she knew: it could come back.
A bird, an everyday physical seagull, flapping hard, lifted off the water with a flash of silver in its beak. She wanted to reach a long arm out and help him rise. As if, having felt for an instant such overflowing health, she had the strength to keep birds in the air.
Winner of a 2014 IPPY for Visionary Fiction