Organize My Life? What Happened to My Trusty Rituals?
(Email to therapist) Nicholas, All my routines are scrambled. I feel like a box of puzzle pieces. Shake me and I rattle. It's not unpleasant, just new and a bit unnerving. Not even sure I'm ready to organize my life again.
I'm trying to put my regular self/life back together after the six weeks at home and hospital during Bob's medical adventure.  I do know this is very little shake-up compared to that of Syrian refugees and people who lose homes and loved ones to floods and such. Especially since Bob is now doing fine.
Even so, it's my shake-up and has gotten my attention. Also, I think it was underway before Bob's health went into typhoon-spin.
For example
Here it is a weekday and I'm neither on vacation nor in my office. Currently on den sofa in fetching fleece loungewear, not sure when that will change. I tell myself I'm 68 years old — some kids my age have retired– and I have a cold — sick leave might be considered an option.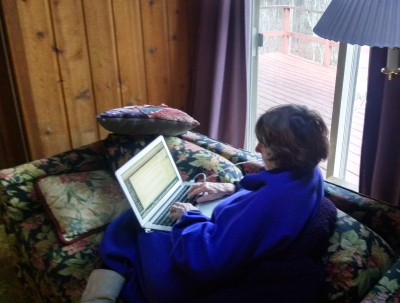 And another of my loved ones had a serious and upsetting health scare this week (that's turned out to be okay.) So maybe a striking lack of get-up-and-go is in order at the moment.
But I don't think this is a matter of a day.
I've always taken my self-devised routines seriously: time spent on my current novel-in-progress, time spent reading other writers' manuscripts, exercise, date nights, lunch at the K&W with friends, meditation, weekly writing group. Likely relied on these rituals for a sense of security. It's ironic that I've made my life into a large ritual, when I'm so averse to following anybody else's schedule.
Lazy!
Of course, I do mean to keep doing all these things(Clients, I will not neglect you!) but right now these familiar elements are puzzle pieces that may fit back together somewhat differently. However, I'm not at ease with that. I fear I'll make decisions out of laziness, so I'm keeping a good supply of guilt ready if needed. I know that trying not to feel lazy is probably not the best principle on which to organize my life or make or not make any kind of life change.
Order/Disorder
Right now, I'm passive about the process. Just watching myself evolve, hoping I'll jump up and firmly assert order if things get totally out of hand. I do wonder what out-of-hand would look like.
Categories: Uncategorized
Tags: back together, disorder, evolve, fit back together, get up and go, guilt, lazy, life change, my life, novel in progress, order, organize, out of hand, rituals, routines, schedule, sense of security, shake-up, writers' manuscripts