The Loss of a Gathering Place: The Cafeteria Closes!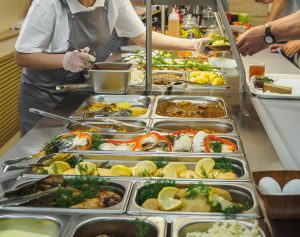 Dear Nicholas, In the midst of the current pestilence plus a wildly dangerous hurricane spinning toward the Gulf Coast, the loss of a gathering place–a shopping center cafeteria–may seem like small potatoes.
But these potatoes are a big deal to me and a lot of others in Raleigh, North Carolina.  The Raleigh paper announced today that the K&W in Cameron Village shopping center is closing. I've eaten there with friends–most often with office partner Carrie Knowles–at least a couple of times a week for more than twenty years. It was usually that or eat at my desk.
The Inner Life
Once a month I've dined there with a group of alternative religionists–we call ourselves Mystic Pizza–to talk about our various faiths and inner lives.
My own inner life has been much sustained by the K&W's vegetable plates–all those thousands of servings of lima beans, turnip greens, fried okra–yes, Lord, the fried okra!–and the shining blocks of jello that greet us at the front of the line.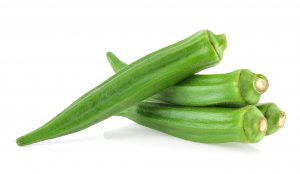 I've even taken part in a book signing there. Thanks to manager Chris Costa, Carrie and I one evening some years ago signed copies of our most recent novels. It is perhaps the only signing ever held at a cafeteria. We were portrayed in the News & Observer in front of the place, I in the outrageous dress I wore to celebrate the publication of my novel Cobalt Blue. Because Carrie and photographer Karen Tam were so insistent, I ate there with them in that dress and not a single diner seemed the least bit outraged.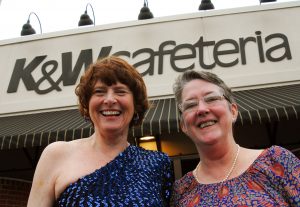 (Seven years later, this picture embarrasses me, but–cringingly– I'm posting it anyway in honor of the K&W.)
The K&W, while notably uncool, was also a place to see and be seen.; the heavy hitters of state government were often present.  There were also lots of solo diners, reading, checking email. And lots of old people, old Southerners eating the food we grew up on. If I'd had a troublesome morning, the K&W lunch was truly a comfort.
The Beef
My first day back in the office after husband Bob had weathered a terrible health crisis, I went to the K&W and ate a plateful of roast beef–for strength.
Spotty and Dotty
Decades ago, I cherished a half-serious fantasy of myself in old age, cafeteria table-hopping, in the gravy-spotted sashes of my honorary doctorates, slightly dotty but very happy. Here I am now in (early-ish) old age–not dotty but no doctorates either–and no K&W cafeteria.
What to do?
Well, nothing for now. Because of the covid that killed our cafeteria, I'm not eating out anywhere.
One of my cafeteria-loving friends is making herself a memorial meal tomorrow night: salmon cakes, cornbread, green beans, and maybe jello.
I'm no cook–my quarantine lunch just now was an apple, peanut butter, and ice cream. Didn't grow, grind, or churn any of it.  So this will be my memorial, these memories.
I know it's going to hit me harder when the world re-opens and I'm back in my office and it's time to go to lunch. What to do then?
Within a hour of the news breaking, there has been an outpouring of sadness and shock online. One wryly grieving comment: "Please respect my privacy in this difficult time."
A Protest?
I've always remembered a story in the New Yorker back in the 9os about a beloved French eatery near the Sorbonne that was bought by a company owning other restaurants. So alarmed was the regular clientele of a group of Balzar regulars, mostly editors and publishers and professors, that they formed a protest group, asking that there be no changes in the place. I understood when I read it and knew it could happen anywhere.
Thanks for the Collards
Of all the things I've told in the confidentiality of therapy, Nicholas, the only thing I ever said that visibly shocked you was that I'd had such good collards at lunch that I went back later in the afternoon and ate another serving. Was it the fat content that worried you? I assure you those collards were good for me.
So, okay, I will say this: I am grateful for all these years of the K&W. My cafeteria, you will not be forgotten.
Peggy
Categories: Uncategorized
Tags: Balzar, cafeteria closes, Cameron Village, Carrie Knowles, Chris Costa, Cobalt Blue, comfort, cornbread, fried okra, good collards, jello, K&W, K&W Cafeteria, lima beans, photographer Karen Tam, Raleigh, salmon cakes, turnip greens, vegetable plate