A Mood Booster I'd Forgotten: The Immortal IZ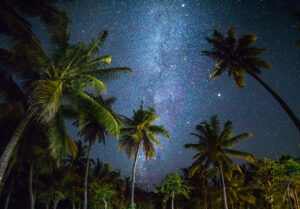 Dear Nicholas, The three-and-a-half minute video below has already been heard/watched 993  million times. A while back I had played it a few times myself. By chance (or algorithm) I ran across it again yesterday while checking out the new Saturday Night Live skits on Youtube. What a mood-booster to view again!
I'm so pleased to have re-discovered it. The combination of a sweet ukulele, clear blue water of Hawaii, and the bountifully generous spirit of the singer do good things for my state of mind.
Israel "IZ" Kamakawiwo'ole
I loved hearing Iz again and seeing the glorious celebration of his life. Made me feel better about life–and death–it felt like a testament to a spirit living on.
Spiritual Listlessness
Some of my literary friends have recently been talking about words for the dragged-out feeling that can come from our third-surge-of-the-pandemic-political-uproar-global-warming situation. Acedia, from ancient Greek, was a strong candidate, meaning "spiritual listlessness".   (Spell-check fittingly likes to change the word to acidic.)

Mexico offers another useful description, zozobra, "soul-sickness … from cracks in the frameworks of meaning that we rely on to make sense of our world – the shared understanding of what is real and who is trustworthy…."
What's Been Helping Me
My own mostly successful resistance to these feelings is likely due to several things and I am fortunate in each one of them. Love and work, the two great sources of meaning, are both available without my leaving home. Husband Bob is right here and others loved ones electronically available. I can work, critiquing manuscripts and doing my writing on the sofa.  And then there's the OCD medication I take, a mood booster, for sure.  And we live in the country; I get a plentiful dose of nature just by stepping out the door. I read, weed and pat the dog a lot. I'm lucky and I greatly appreciate that.
Less fortunately, being a touch self-absorbed is also a sort of buffer against world troubles.
Even So…
Though I was feeling pretty good when ran across the video again, I felt even better, full of hope for humanity, when I spent three minutes with Iz.  Here he is.  A ukulele high. (I think sun is in his eyes; don't let that put you off.) Play it, even if you've heard it 900 million times before.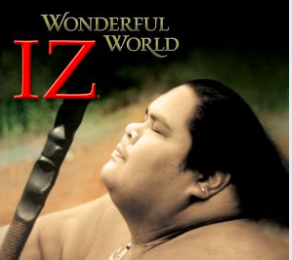 Good? Did it hit you the way it did me? Kamakawiwo'ole: a great antidote to acedia and zozobra.
Peggy
Categories: Uncategorized
Tags: acedia, blue water, celebration of his life, dose of nature, feel better about life, full of hope, Hawaii, hope for humanity, Israel, IZ, love and work, soul-sickness, sources of meaning, spirit living on, spiritual listlessness, state of mind, sweet ukelele, ukelele, zozobra