Personal History: City Love
Nicholas, A few years ago, I wrote a piece of personal history for the anthology 27 Views of Raleigh. Turned out to be a story that stretched across all of my adult life, which of course I want you to know about. In the language of Facebook, I called it: "In a Relationship with Raleigh: It's Complicated." A shorter version ran in Raleigh's Walter magazine.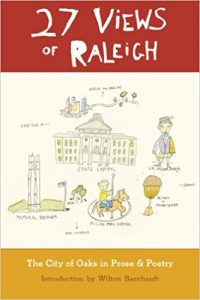 I'm posting this personal history here in three slightly adapted pieces. Here's the opening segment.
I moved to the North Carolina capital when I was 21, but the story began much earlier.
In a Relationship with Raleigh: Part I
We met in 1954, Raleigh and I, when I was five years old and went to visit—all by myself!—my twenty-something aunt, a single girl with a job in the big city. What I remember: the sun porch at her apartment in a big old house she shared on Blount Street; the busy crowded urban feel of Fayetteville Street rushing past me; a Belk's with a cafeteria, which we didn't have in Wilmington; the art museum snack bar where I somehow tipped over our table and spilled Aunt Betty's coffee.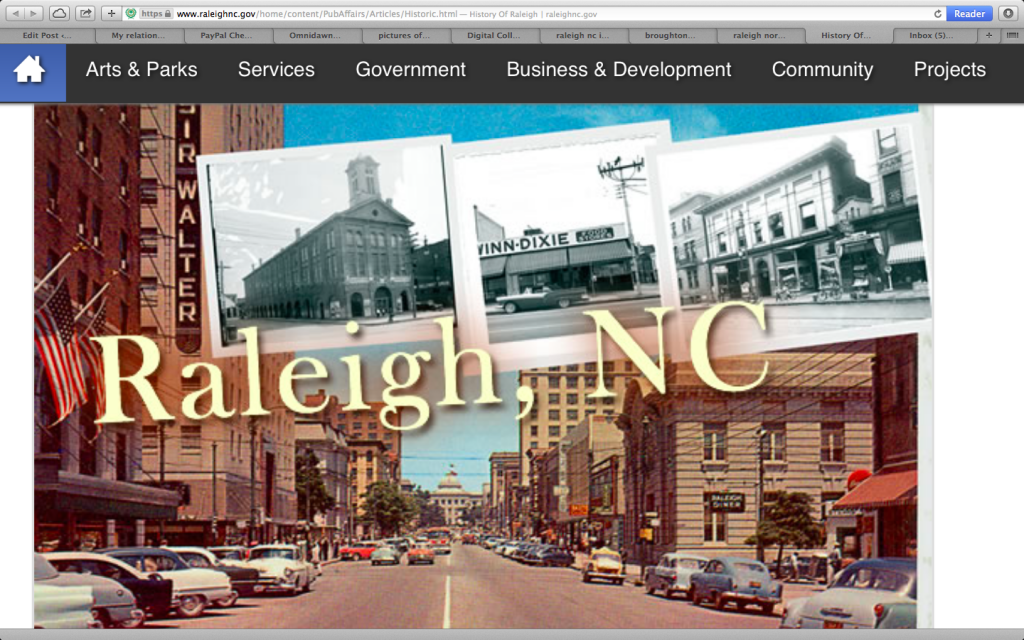 On this trip, I decided most of my future, though I hadn't realized it until now.
Early Decision
How it happened: while I was there, Betty got a phone call from a man who wanted her to go out with him that night (this particular man caused a ripple of excitement through the household). So two of her friends took me for a long, long sightseeing ride. The key moment for me that evening: The car entered a traffic circle, and as the entertaining gossip flowed from the front seat, I looked down a connecting avenue to see a swoop of hill and, at the end, an immense lighted castle of a church. What could this be? Duke University, offered one of the front-seat friends.
A school? Well then, this was the school for me. We were riding through Durham, but I didn't know that. It was all Raleigh to me.
Where You Go to Get Money
Twelve years later, as a Duke freshman, I would make my next visit to Raleigh proper. Of course, I'd heard mention of the place in the intervening years. Occasionally my father would go out of town for the day; Mom would explain, "He's gone to Raleigh to get money for the college." Daddy was a trustee for Wilmington College, which was moving and growing, eventually to become UNC-W. Raleigh was where you went to get money for that.
For my second visit to the city, I was again in a back seat at night, double-dating with a boy whose girlfriend was at Peace College. Once again, I looked down a long stretch of road to the lighted columns of Peace's main building. This time I felt I was looking at a night-lit Tara.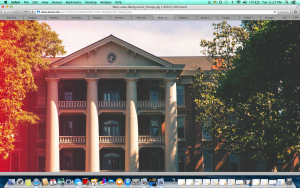 I came to town another time or few before arriving to stay, once to the Angus Barn restaurant, once to a party at the apartment of an N.C. State student, where I glimpsed a boy I'd known in high school looking entirely grown-up and heading happily to a back room with two chilled glasses of white wine. Raleigh had started to feel faintly thrilling in an older-than-school-days way.
"We're Going to Get Through This"
Indeed it was romance of my own that would keep me in the Triangle area after graduation in 1970, and that lingering would outlast the romance and ultimately make me a Raleighite. But first an ordeal: Senior year I spent six weeks as a practice teacher so that my English major would give me an income in case being-a-writer didn't work out.
Never has a student teacher been luckier in her assignment, or more miserable. I was sent to teach "accelerated" classes at Raleigh's Needham Broughton High School under the supervision of beloved teacher Lou Rosser. An ideal situation. But I didn't want to teach; didn't want to be an enforcer of rules trapped in a classroom trying unsuccessfully to engage groups of thirty, many of whom, like me, would rather have been elsewhere. Apparently that attitude showed. One afternoon I was sitting at my desk in a corner of the room, recovering from the day. A student appeared—Ira, a wild-haired boy carrying, unbelievably, a briefcase. "Miss Payne," he said, "we're going to get through this." Unforgettable words. The next day he began to present in class a thoroughly worked-out alternative to my interpretation of Moby Dick, which we'd just "taken up." About half the class supported his argument and the others took my side. A fiercely competitive debate raged day after day. Ira was right: We got through it.
The Broughton dogwood tree also helped me during those godawful weeks. In the school's courtyard was the largest bearer of the state flower that I had ever seen: three stories, magnificent, and in bloom during my tenure.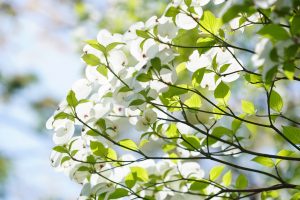 Less pleasing: The principal, Dr. Jewell, volunteered that my skirts were too short. And I had a run-in with the widely admired English teacher, Phyllis Peacock, whose former students included novelists Anne Tyler and Reynolds Price. If she encouraged me to become a writer it was only indirectly. Our classes were meeting together one day to listen to student oral reports. I welcomed this as a wonderful opportunity to zone out and take a rest, until Mrs. Peacock called on me to discuss one of the student reports. I did not come to share the popular enthusiasm for her teaching methods.
Highly Personal History
I was, instead, about to become a Raleigh newspaper reporter, much more to my liking. Mid-spring, I put on what I viewed as a grown-up ensemble (which the editor would later tell me was the shortest skirt he'd ever seen; no school rules for me!) and went to the News & Observer building on McDowell Street. In the elevator, I asked the nearest person where to apply for a job. "Second floor," he said. So that's where I went. Turns out the second floor was not home of the morning paper I was familiar with, but instead housed the afternoon paper, The Raleigh Times, which I had never heard of. I had the job by the time I'd understood what I'd applied for—perhaps not the best sign of my promise as an investigative reporter. (In a day or so, my life in the Raleigh news business)
Categories: Uncategorized
Tags: 1954, 27 views of raleigh, adult life, afternoon paper, apply for a job, Belk's, Blount Street, city love, Dr. Jewell, Duke University, Fayetteville Street, in a relationship, Lou Rosser, N.C State, Needham Broughton, news & Observer, Peace College, Phyllis Peacock, practice teacher, Raleigh, Raleighite, The Raleigh Times, UNC-W, Walter magazine, Wilmington College