How Life Turns Out, So Far: Last of 3-Part Mini-memoir
Dear Nicholas, "How Life Turns Out (so far)" is the final piece of the personal history I started unfolding here several days ago. The first, "City Love": brought me to the point of getting a newspaper job in Raleigh, the city that's the original reason for writing all this. The second was "Single Girl in the City."  This is the last part of this tale of growing roots in a city.
In a Committed Relationship with Raleigh
A change I was certain I'd made had come undone. I found I hadn't left hard news behind at all. As a freelancer, I'd become the Norfolk newspaper's woman-in-Raleigh writing two stories a week about actions affecting northeastern North Carolina. The first time I stepped inside the House chamber of the NC General Assembly, I felt as if I were looking at a huge popcorn popper on hot boil with no lid. In fact, I was standing in that hot pan of oil. Legislators were jumping up and sitting down again, crouching to confer with each other, rushing in and out of the chamber while others were speaking. I saw no pattern or purpose.
As a Talking Head
After meeting that day's deadline, I would have plenty more time to learn. For eleven years I wrote about North Carolina state government for The Virginian-Pilot; for three of those years I added a gig as a three-night-a-week talking head on UNC-TV's live legislative news program.
Jones Street, as some refer to the General Assembly, is, of course, where Daddy came during my childhood to "get money for the college," for Wilmington College on its way to becoming UNC-W. It's where a lot of people come to try to get money, and it is a mad scrambling world unto itself. I always felt that I entered the building in January and emerged in summer, having missed spring altogether. Rushing through the labyrinth of halls, I resolved one season that, on finding my target, I would say hello before asking my questions. That didn't last long.
Ruling Passions
When I finally quit hard news once again, I came away with two enduring beliefs:
1. It takes courage to run for public office.
2. Robert's Rules of Order must be stronger than the law of gravity to have successfully prevented bloodshed in that building for so long.
Those rooms are a setting for passion, conflict, high drama, triumph, brutal disappointment—and long tedious meetings. And romance. Example: one of my brothers, Harry Payne, was a legislator from New Hanover for six terms and married N&O reporter/columnist Ruth Sheehan, now a Raleigh lawyer.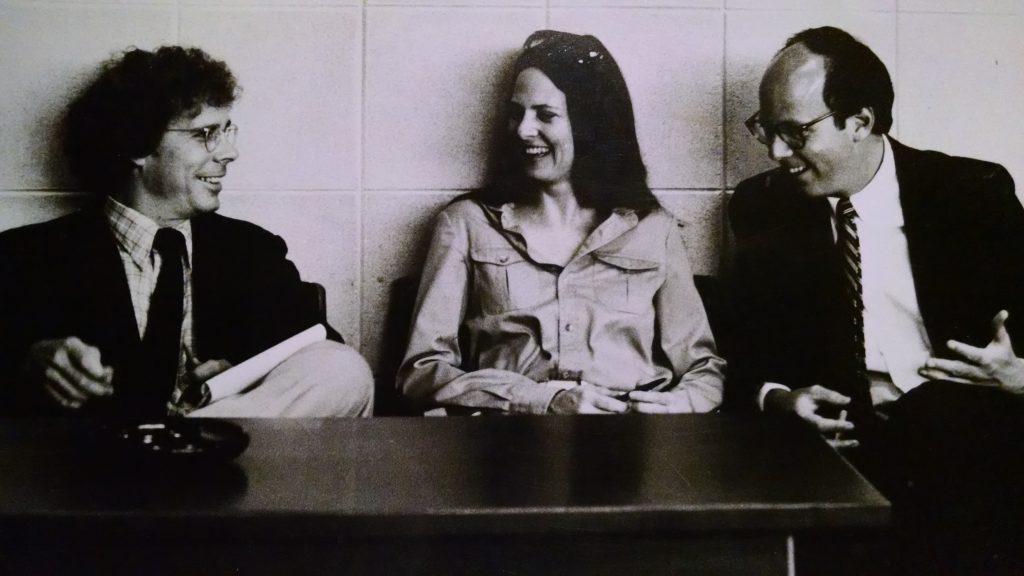 In the Senate press section, L to R, Dudley Price, N&O; Peggy Payne; Rep. Harry Payne. Photo by Karen Tam
I fell in love and got married again myself, to Raleigh psychologist Bob Dick. We met, not in the legislature, but at a book launch party a few blocks away for Angela Davis-Gardner's first novel.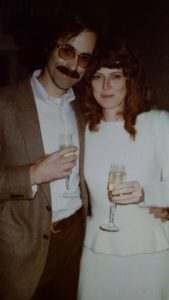 By that time I had begun writing fiction and, to better support that habit, begun writing ad and brochure copy for local businesses and agencies. Of course Raleigh would show up in my fiction; my third novel Cobalt Blue has some crucial tense moments in a senator's office in the Federal Building, and my first one, Revelation, takes place in a church a lot like Raleigh's Pullen.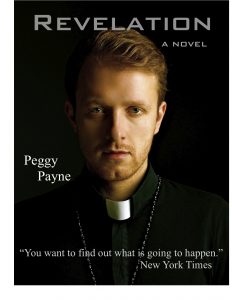 Commuting to the Capital
My marriage threw major life turns into my relationship with the city. I moved in with Bob, forty minutes from town in a log house in the woods of adjoining Chatham County. In short, I became a commuter, because Raleigh wouldn't let me go. Most days I come into town to write and to work with other writers, leaving behind a stereotypically writerly setting, quiet, solitude, etc. I love our rural home, my garden, and occasional kayaking at nearby gorgeous Jordan Lake, which has indeed had predicted pollution problems I long ago wrote about. But to get work done I need to put on my go-to-town clothes and take the long ride back to the place where there's traffic, noise, gossip, news, people to meet for lunch.
My office is now at the downtown edge of the Victorian-era neighborhood of Oakwood where I share space with writer-friend Carrie Knowles in her building, which she has named Free Range Studio.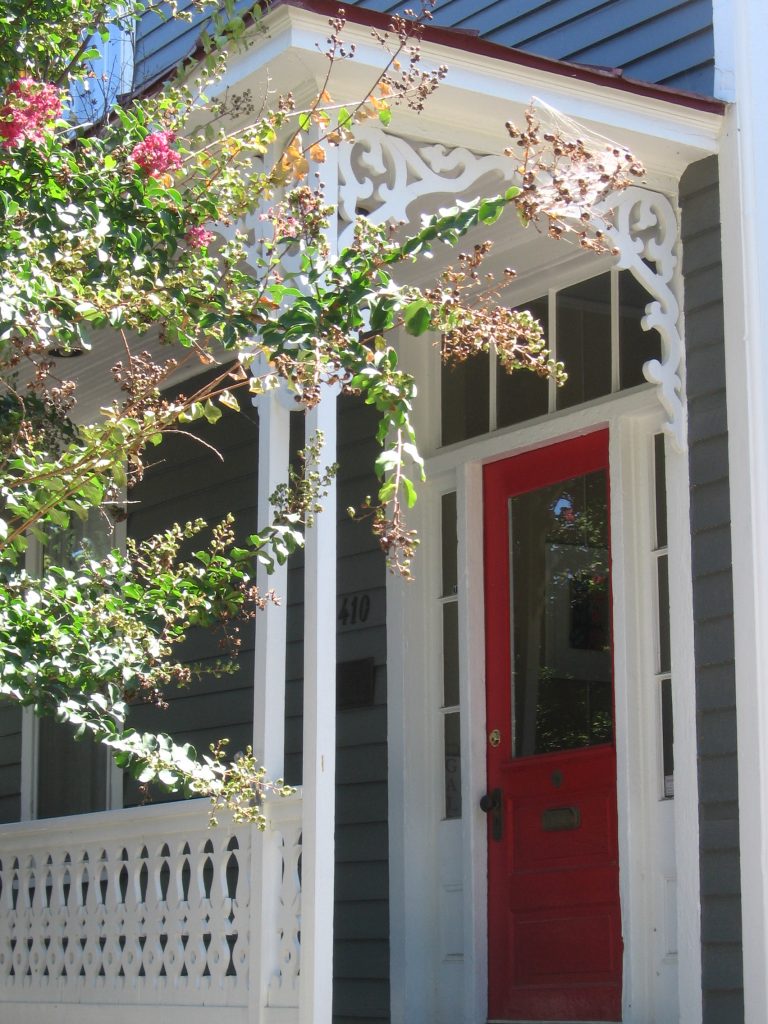 The place is only a couple of blocks from the house I first visited here so many years ago. I often eat lunch at the K&W Cafeteria in Cameron Village (the one that was in Belk's downtown on my first visit is long gone). Restaurants are a sign of how much more cosmopolitan the city has become these recent decades. It was a slow process. The exotic restaurants when I first arrived were the Canton Cafe, Amedeo's, and the International House of Pancakes. I had dined in New Delhi as a travel writer long before there was an Indian restaurant here. Now there's Indian, Thai, Vietnamese, a long list of Japanese, and more.
From Paris
For a while I was part of a group of novelists who met for lunch at the Brownstone. One day someone brought a guest, a French woman, a Raleighite originally from Paris. One of our number inquired how she happened to move to Raleigh. "Romance," was her one-word answer, though she pronounced it rrrohhmanhhs. In France, she had met a man from here . . . and so on. With a straight face, her questioner said, "I guess a lot of people move from Paris to Raleigh for romance." We laughed, because Raleigh is a regular normal small city: no distinguishing features like the Eiffel Tower or the Seine, no ocean, no Alps, no beaches or central river as in my hometown.
City View
And yet: I remember my first visit as a five year-old, excited and bedazzled by the traffic of Fayetteville Street. More than sixty years later, I still am roused by the city view as I ride into town on South Saunders Street.
It's a complicated relationship, of course, this business of Raleigh and me; because the place isn't New York and it isn't Paris and I didn't set out to stay here. But looking back now, I think I rightly can call it a romance. In fact, I'm sure I can.###
Categories: Uncategorized
Tags: Angela Davis-Gardner, Carrie Knowles, Cobalt Blue, committed relationship, Fayetteville Street personal history, Free Range Studio, freelancer, hard news, Harry Payne, Jordan Lake, K&W Cafeteria, life turns out, memoir, NC General Assembly, Pullen, Raleigh, revelation, ruling passions, Ruth Sheehan, single girl, talking head, UNC-TV, UNC-W, Virginian-Pilot, Wilmington College