My Yoga Sabbath Problem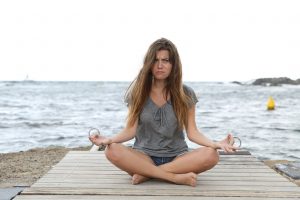 Dear Nicholas, I'm taking a relaxing break from supposedly relaxing yoga and from my recent experiment in observing the Sabbath as a day of rest. My yoga Sabbath problem is that I'm finding both stressful.
My Sabbath experiment is only a few months old and the third Sunday was wonderful. With no work of any sort, the day felt timeless and infinite. That hasn't happened again. Instead, Sunday has loomed as a day I don't allow myself to do things I want to do. And Saturday feels like a deadline for getting things done.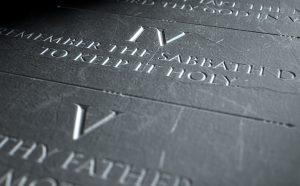 Importantly, I've neglected to do any special practices to consecrate the time, "to keep it holy." That has no doubt made a difference.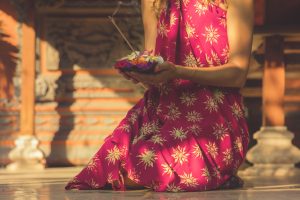 Rolling Out The Mat
Yoga I came back to this past fall, after an absence of years. The first three weeks were arduous and humbling. I discovered how much strength, flexibility, and balance I'd lost.  Physically, the experience was about even with a moderately unpleasant medical procedure.
The fourth week, I began to feel stronger. I started to remember what I once knew.
But still I dreaded going to classes. I also found myself trying to see how long I could last in a class without checking the clock.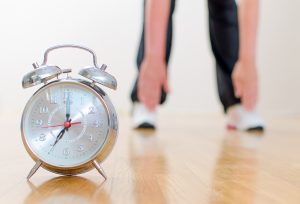 I tried three different teachers. Maybe I need to try a few more.  I used to really like yoga.
Outsider Yoga Art
Years ago, for reasons that were never clear, I beaded the word "yoga" onto a bit of purple satin and put it into a frame. I just now located this lost work of art on a bookshelf, behind a row of books. (Why did I make such a thing?)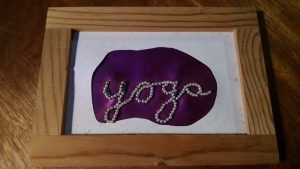 I think I would like to like yoga again. But so far, it doesn't feel like a good strategy for easing stress and promoting well-being.
As I write this, it's the Fourth of July, Independence Day. A couple of weeks ago, I finished a long revision of a novel, and I got a new literary agent two days ago. I'm celebrating all these things with alternating bouts of work and indolence, scheduling based on my whim. So far my whims have not included yoga or a Sabbath observance.
My Yoga Sabbath Problem
Some of my favorite lines of poetry come from Wallace Stevens' "Sunday Morning."
…late / Coffee and oranges in a sunny chair, /And the green freedom of a cockatoo
                                                                       and
The day is like wide water, without sound, /Stilled for the passing of her dreaming feet/ Over the seas, to silent Palestine….

Rereading those lines rouses again a flicker of desire for a slow Sunday, a day "stilled."
I love the idea of both yoga and slow Sundays, but both try my patience. This is my yoga Sabbath problem.
Can such practices be useful–can they reduce stress and produce calm–when performed grudgingly, even resentfully? I don't think so, but I also think there's a good chance I'm wrong.
Just wondering,
Peggy
Categories: Uncategorized
Tags: easing stress, experiment, feel stronger, getting things done, grudgingly, keep it holy, like yoga, observing the Sabbath, practices to consecrate, produce calm, promoting well-being, relaxing break, relaxing yoga, resentfully, Sabbath observance, stressful, things I want to do, timeless and infinite, work and indolence