New: Launching My Sabbath Rest Experiment
Nicholas, For decades, I've been telling myself I really ought to declare one day a week free of all work–writing, critiquing, housework, taxes, etc. A Sabbath rest. I haven't been able to get myself to do it until now. What has persuaded me is the lovely Shabbat dinner I had this past Friday with my friends Meira and Sam.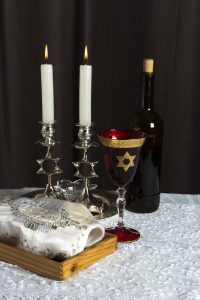 Shabbat is the Jewish day of worship and rest, beginning at sundown Friday, lasting until darkness falls on Saturday night. The dinner I took part in, my first Shabbat dinner ever,  was a wonderfully purposeful celebration, beginning the holy day of rest.
Meira, my friend since first grade, is a composer, with much of her work on Jewish themes with universal meaning. She and Sam are highly observant of the Shabbat rituals. The candles were lit before sundown. We washed our hands in a prescribed manner. The bread and the wine were blessed. We sang in Hebrew (I did the best I could) from little blue books of prayers and liturgy, the Siddur, I think they're called.
Mindful and Delightful
The striped bass and asparagus and sweet potatoes and conversation that followed then seemed important, the meal more joyous and meaningful than it might have been had we simply flopped down in our chairs and gone to eating.
The full observance of Shabbat includes a lot more than this meal. Until the sun goes down the next day, Meira doesn't make phone calls or turn on the stove or do anything that could be construed as work. She doesn't write her music, which the principal cellist with Jerusalem Symphony describes as coming from "a place which is beyond music. It is like a prayer … from deep within the soul…."
Lest I Get Carried Away
Let me be clear: I am not going that far with my own new Sabbath observance. I'm taking it slowly and trying out my own simple version.
The concept of a sabbath certainly isn't new to me. As a child, raised Methodist, I was never allowed to do homework on Sundays. I never questioned this or thought it unusual in any way. Sunday, after all, was Sunday.
No-Work Sundays
This past Sunday was my first no-work Sunday as an adult in my new personal style of Sabbath. What that meant for me was no writing, no critiquing of clients' manuscripts, no housework or dealing with family finances, etc. What I did mainly was take a walk on Wrightsville Beach, hang out with my mom and my brother Franc, drive home, hang out with my husband, and read.
Sabbath rest. I really liked it.
.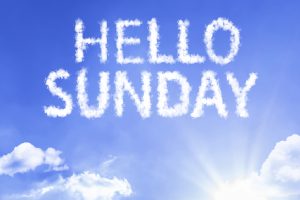 I have the feeling that I am, in slow-motion, unwrapping a large gift. I'm only beginning to see the edge of it.
A Month of Sundays
Still, I'm not going to commit to more than I'm sure about (I take my deals with myself extremely, perhaps a bit pathologically, seriously.) So I'm going to do this for three more Sundays, stretching this experiment out a month. My Sabbath will begin when I wake on Sunday morning and end when I go to bed.
I'll start the day with an awareness of it being a special soulful day, putting aside my worldly ambitions and routine obligations. I'll read my usual daily devotional from my Science of Mind magazine and meditate. And then I'll read, rest, and do things that are fun.
Yabba Dabba Doo! as Fred Flintstone used to say when he was happy.
I think I'm pretty likely to want to continue this.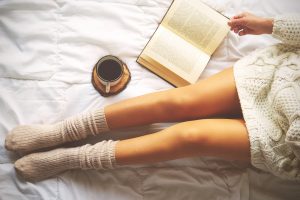 And Not-So-Spiritually
Of course, being me, I have some worldly expectations for the results. I expect to be more efficient in the other six days, a better writer, a clearer thinker, a quicker problem-solver.
Wouldn't surprise me if some or all of that were to happen. But those things, for a change, are not my focus.
Dancing on the Beach
Years ago, Meira composed a piece for string orchestra that she titled Shabbat With King David.  She writes:
The melody came to me one Friday night (the beginning of the Jewish Sabbath) in June when I found myself dancing and singing in the moonlight along the ocean shore, with the joyous spirit of King David…his ecstatic dancing when bringing the ark of the covenant to Jerusalem.
I'm looking forward to my own simple version.
Want to Talk About It?
If you happen to be near Chapel Hill, I recommend an event taking place tonight (Feb. 20).  Two authors will lead a discussion on Sabbath at 7 p.m. at Flyleaf Books: "Can Rest Revolutionize Our Lives." Kate Rademacher is author of a memoir about her recent conversion to Christianity, Following the Red Bird. Dana Trent, a graduate of Duke Divinity School, wrote  For Sabbath's Sake.
Hoping to get everything done by Sunday,
Peggy
Categories: Uncategorized
Tags: Dana Trent, Duke Divinity School, ecstatic dancing, Flyleaf Books, Following the Red Bird, For Sabbath's Sake, Jewish day of worship, Kate Rademacher, King David, Meira Warshauer, no-work Sundays, prescribed, purposeful celebration, rest experiment, Sabbath, Sabbath observance, Sabbath will begin, Shabbat, Shabbat dinner, Shabbat rituals, Siddur, soulful day, sundown Friday