My Brand-New First Step-Grandbaby– in Krakow
Dear Nicholas, We went to visit the wee lass, my newborn step-grandbaby, in her hometown of Krakow, Poland. Now I have a very extended family and a faraway baby to visit on Skype. The arrival of Annabella has widened the reach of my roots in the world in a way I hadn't expected. We don't all speak the same language in this new clan, but as a friend said to me, "Who needs English when there's a wee babe in arms?"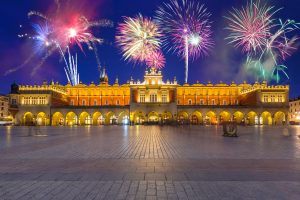 Annabella at seven weeks when we met turned out to be a delightful baby, with lovely dark eyes that are clearly keeping close watch on everything that's happening.
Step-Grandbaby Pictures
I'd show you pictures here but her parents are understandably jumpy about that, so I'm reduced to showing Krakow and our new collection of refrigerator magnets. Oops! One's upside down. Need to brush up on Cyrillic script.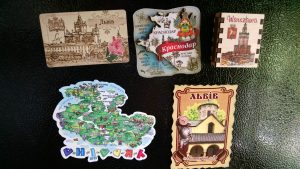 Annabella's own roots reach far and wide. On her father Chuck's side, Anglo and Italian. On her mother Karolina's, Russian: from Siberia to the south and over to the Chinese border.  All of which turns out to be a beautiful combo.
The Language Adventure
I asked her mom what her first language would be and she said, Well, English at home, and Russian from her maternal side and Polish from other kids and school. Karolina does happen to speak five languages herself, including perfect Polish and English, with some facility in several others.
During our visit, she worked as translator in addition to baby-tending. Turns out her Russian-speaking mother, also visiting, is in the same profession as my English-speaking husband. He's a psychologist; she's a psychiatrist and Jungian analyst. The conversation ranged from thoughts on psychotherapy from Irvin Yalom and Donald Winnicott to dealing with patients who miss appointments. That was probably easier than translating me, since some of my anecdotes tend to run on pretty long.
My entire hard-won grasp of Russian on arrival amounted to one sentence: I am happy to meet you. I remembered it long enough to haltingly say it. All of that has now two weeks later slid out of my mind except for one word, тебя, which means "you."
Never Could I Have Guessed…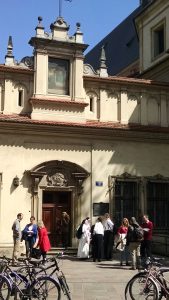 I was in Krakow once before in about 1980 in my travel-writing days; wrote a piece for The Washington Post about how much Poland felt to me like home in the American South. I never would have imagined I'd be coming back about forty years later as a step-babcia, Polish for grandmother, to meet my step-grandbaby.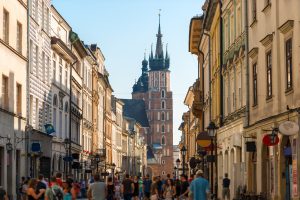 The city appeals to me a lot. It's a college town. Jagiellonian University, with 42,000 students, is where Copernicus went to school. The old city center is large and busy and festive, not just a historic site. And, at least in the warm months, the Krakovians share my enthusiasm for ice cream. Never saw so many ice cream parlors. Good place to raise a child.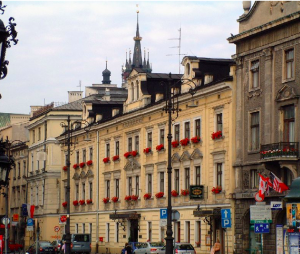 None of the grandparents crashed on the new parents. We all stayed elsewhere, Bob and I, at the near 200 year-old Hotel Pollera, a bargain by American standards, where the breakfast spread was served in an old ballroom with stage and balcony.
A Panel of Grands
And there are more grandparents still to come. I googled step-grandparent and got a warning that I haven't needed, which was: expect to be in the position of "extra," not having full standing. I felt completely welcome and comfortable. Our situation is a little unusual, though; with so much distance involved, we're never likely to gather around the crib at the same time. And I do make a point of saying "step" so as not to claim undue credit.
Annabella is the first for every single one of her "grands." I once knew a man who was the only child and only grandchild for his family. He said he carried the happiness of six people in his childhood. Imagine Annabella's responsibility! Well, she seems to be doing fine so far. Smiles, turns over, enjoys her meals, etc. She's also taking notes; I can tell. I'm betting this girl is going to have good stories to tell.
Will keep you posted.
Love,
Peggy
Categories: Uncategorized
Tags: babcia, babe in arms, Cyrillic script, Donald Winnicott, first language, Hotel Pollera, Irvin Yalom, Jagiellonian University, Jungian analyst, language adventure, only grandchild, Polish for grandmother, step-grandparent, stories to tell, taking notes, travel-writing days, worked as translator