Baby's First Words: Yours, Mine, Revealing?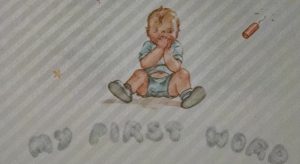 Dear Nicholas, I found this week, as I was going through pictures and papers my mother left, a surprise document. In a "baby book"– filled in at the start but quickly going blank, of course–she had written her baby's first words, my first words, back in the good year 1949. They are revealing.
So I'm wondering if that's often so. Do you know your first words? Your children's first words?
I found the discovery charming and delightful. Of course I did; they were my words, after all. And seeing the little list was like a wonderful piece of time travel.
So, okay, I won't maintain the suspense any longer. First word, no surprise: Da! Da! Mom had recorded this with evident delight, underlinings and exclamation marks hers.
Second word: Tuck. That's my mother and that's what my father called her, so I did too. I switched to saying mama when I was old enough to hear other tots calling their mothers mama. I was pretty verbal by that time, because a treasured piece of family lore is the tale of when, as a toddler, I saw her in a bathing suit and commented, "Too tight, Tuck."
Baby's First Words Can Say A Lot
The next two words–Go and Car–are still favorites of mine. I do love to travel.
Word Number Five is a phrase: ShoesandSocks. I can almost feel myself in the moment of Mama getting me dressed, perhaps to Go in the Car.
Then comes: Sunshine. That pleases me to read. She and I are going to play outside.
Then of course: Store. My parents' were in the clothing business, owned a tiny store in a former popcorn stand which, as I've noted here before, burned down when I was thirteen days old. They started over in a nearby location. Store is still a big word in my vocabulary. It was the family business and nearly as personal to me as home.
Finally, the last word on the list: Tie. No doubt that refers to tying my shoes. But I've always loved the look of a man in a suit, a coat and tie, a tuxedo. So maybe I was getting an early start on developing that enthusiasm.
Eight words on the list. After that, my talking was no longer news. And who has time to fill out one of those baby journals for long?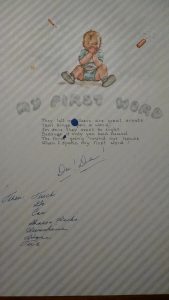 Using Big Words
I do remember one significant new word, much later, and I think it had to do with my turning out to be a writer. Please indulge me if I've told you this before.  I was in school by then and had younger twin brothers. Mom was starting to dish out dessert at dinner: cherry crisp, a crunchy variation on cherry cobbler. She asked each of the kids individually, starting with Harry and Franc, if we wanted "a little or a lot." She asked me last. I said I wanted "a veritable mountain." The look on her face–at my choice of the word veritable, perhaps at my use of metaphor–was amused, startled, pleased, proud. I can still see it.
So words are important, revealing–and catalysts. I never doubted it.
Naked!
Now, I'm starting to remember early-words stories from parents: the baby who, lying in his crib, greeted his mother who'd just gotten out of bed with "hair's a mess." And the little fellow who was taken to a restaurant and when friends approached the table pulled his shirt up to his chin and yelled, "Naked!" I remember one of my nephews when learning to talk, silently copying the movements of my lips as I talked to him; he has turned out to be quite a scholar.
Tell me what you know about a baby's first words, yours or anyone's. I want to know more about #babytalk.
Verbosely chattily yours,
Peggy
Some of these are pretty cute–some self-aware and headstrong babies here. Also, there's a big emphasis on "da da." Do daddies do more coaching on what to say first? Do mamas promote saying dada? My research does point out that it's easier to say than mama.
Categories: Uncategorized
Tags: baby book, baby journal, baby journals, be a writer, children's first words, daddies do more, family lore, first words, headstrong babies, my first words, new word, turning out to be a writer, use of metaphor, using big words, verbose, vocabulary, words are important, words on the list