What My Psychotherapist Wrote About Me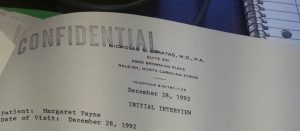 Dear Nicholas, Thanks for the sneak peek at my whole adult life. It was a rare and enlightening opportunity–turning through the notes you made in our sessions from when I was twenty-four to when I hit sixty-four. "What my psychotherapist wrote about me" is not something I ever expected to read. Reading these notes was a good and emotionally intense experience.
Searching for Religious Experience I Forgot
The reason I asked to see these files was book research. The biography of a mystic I'm working on is now partly my own spiritual memoir. Searching my memory in this process, I'd come to feel that there was an important spiritual experience in my past that I'd forgotten.
I knew I had told you about whatever such experiences I'd had over the years. I did remember a time in my life that seemed  livelier than usual with spiritual adventure when you said, "You are writing all this down, aren't you?" My thought at the time was: how could I possibly forget?
Seems I forgot.
I did find several hand-scrawled lines that helped jog my memory a little. Also, the notes indicated I had an anti-religion period that I don't remember at all. All fodder for the book. And quickly put aside as I read about the rest of my life.
On the Edge of My Chair
On first sitting down with the tall stack of folders, I was excited and unsettled. The feeling reminded me of a lead to a travel story I wrote decades ago. "When a Baptist from Eastern North Carolina stands between two suitcases at the arched door of a Roman convent, it's a moment of some mystery and suspense."I had a similar feeling as I faced those green file folders: mystery and suspense.
The Initial Surprise
You were so professional and clinical and terse, left out everything personal, Not a word about my sterling character, staggering beauty, or relentless charm. I think you used the pronoun "me" about yourself only twice in the whole forty years, one of those being December of 1985: "Gave me a pen as a gift." The rest of the time you were NES, as in "Mad at NES after last session." And I was pt (presumably meaning patient) or the Greek letter theta, θ.
I was relieved to find no juicy confessional material.
Hilariously Objective
Seeing one's self summed up is inevitably funny. At 44, I was "well-nourished" and "looking somewhat younger than (my) stated age."
A Second Surprise: the Diagnosis
You referred a couple of times to my having "severe OCD with recurrent depressions."  You've always referred to my OCD as mild in talking with me. Maybe in recent years, you've changed your mind.
I've always put it in the moderate column myself.
Certainly it's mild now that I have medication.
The Marriage Miracle
Given some of the "issues" I started out with, it's a miracle I've wound up happily married. Perhaps not surprising that I married a psychotherapist with a few interesting quirks of his own.
A High Speed Ride
Reading the major events of my life in a mere five hours was quite a rush. Made me think of the "life flashed in front of me" phenomenon that people in life-threatening danger often report. I was emotionally spent when I finished.
And BTW
My hang-gliding experience wasn't "life-risking" behavior. I sailed off a dune, not a mountain, and the equipment kept me from directly hitting the ground when I crashed.  Worst case was a strong jolt, no injuries.
Thank you!
You clearly did a lot of work on my behalf. The pile was tall, four hefty files. And the drug adjustments were many more than I'd remembered; the record-keeping on all that was huge. "What my psychotherapist wrote about me" is a book in itself. And it wasn't even a lot of sessions, on average one or two a year.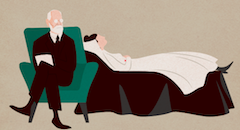 Most important, what we've done together over all these years has worked.  I feel wonderful! I was tempted to add a note to that effect to your files.
With love and gratitude,
Peggy
Categories: Uncategorized
Tags: biography of a mystic, confessional material, diagnosis, drug adjustments, experience I forgot, mild, moderate, my psychotherapist, recurrent depressions, searching for religious experience, searching my memory, severe OCD, spiritual adventure, Spiritual Memoir, what my psychotherapist wrote