Was It Something I Said? The Flip Side of "Said the Wrong Thing" Worries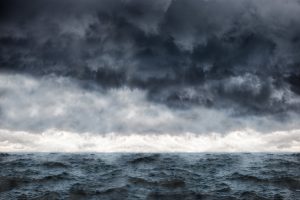 Dear Nicholas, A man I talked with on a bus in 1970 emailed to tell me that something I said on that ride kept him alive in a life raft decades later in brutal cold 400 miles east of Gander, Newfoundland.  You can imagine how flattered and stunned I was. One of my most troubling obsessions is memories and fears and fierce tenacious guilt over having said the wrong thing, even of having thought "the wrong thing" going back to times when I was a small child.
His astonishing email turned that fear inside out–at least momentarily. I felt in a gut way that none of us can ever fully know or control the effects we have on others. And that for all the "wrong things" I may have said in my life, I apparently unwittingly said one thing that was really right.
What Happened…
I'm going to tell this story even though it's not entirely mine to tell. And I now can't locate the man who wrote me about this a few years back so that I can get his permission.  I have the impulse now because I found a copy of his email in my mother's papers after her death–I'd sent her a copy. Guess I never did quit trying to impress Mom–plus she and my father worked very hard to make it possible for me to be on that bus that day.
The conversation took place on a rainy gray spring afternoon my senior year at Duke. I got on the bus that runs between East and West campuses. It was almost empty, but I saw a guy I'd shared a few English classes with, a tall lanky quiet boy. I slung myself into the seat beside him.
We knew each other's names, had had a few brief conversations, and that was the total of our acquaintance.  In the course of that ride he told me he'd just been accepted to Columbia Journalism School–but he didn't really want to go.
In his email, he told me I was amazed that he wasn't excited about this and said in effect "'why don't you just try it? It could be a good thing for you.'"
The Repeating Conversation
I don't know what he decided about grad school. He didn't say.
But, he said, he began having a recurring dream about that conversation on the bus. Over a thirty year period, it came at times when he faced making a life-changing decision.  In the dreams, the message always was, in his words: "'do it, you moron, don't be afraid to act.'"
He became a commercial fisherman, which is what took him to those icy waters so many years later. When the boat ran into trouble, there wasn't even time to radio the Canadian Coast Guard. There wasn't another boat within hundreds of miles.
No Help in Reach
He and eight other men took to the life raft.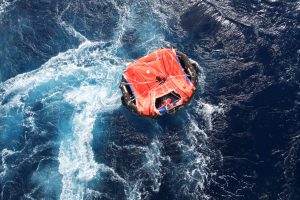 "Over the next three days, I watched them freeze to death, one by one, and I was at the point where I was ready to say 'fuck it' and give up, too, and then there you were, although that was more of a hallucination than a dream and it made me determined to live (if you're curious, seven died, two survived)."
The way he saw it, the recurring dream connected to "something subconscious" in him that helped him decide.
When I got that email, I did remember the conversation and perhaps that's notable. Yet I would never have guessed it could have had such an impact. It was close to graduation and I don't think I ever ran into him again after that day.
Said the Wrong Thing?
I'd like to be able to use this story as an antidote to the "said the wrong thing" anguish that's still a part of my mostly-medicated OCD.
We never really know for sure what was the wrong thing and what was the right thing. Something subconscious in me has a hard time accepting that.
But I'm so glad my fellow English major survived his North Atlantic ordeal.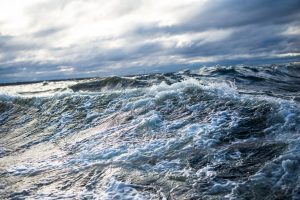 I hope he is still well and is okay with my telling our story. I'm grateful that he let me know.
And you– thanks for listening to this. My writing it down will help me remember.
Peggy
Categories: Uncategorized
Tags: afraid to act, Canadian Coast Guard, Columbia Journalism School, determined to live, do it, Duke, Gander, hallucination, help me remember, impress Mom, know for sure, life-changing decision, medicated OCD, Newfoundland, recurring dream, saved life, something I said, subconscious, the right thing, troubling obsessions, try it