Our Better Marriage Weekend: The Art and Science of Love
Dear Nicholas, When Bob first mentioned our going to a better marriage workshop, I was hesitant. Things were good, so why rock the boat? And he and I have been together happily most of most days since 1982. Did we need this? Well, better marriage was not his motivation. As a psychologist, he wanted to see how highly regarded marriage expert John Gottman works. So therefore Bob felt we should go to one of the weekends for couples, "The Art and Science of Love," which John leads with his wife Julie Gottman.  The clincher for me: it was in Seattle. Who could say no to Seattle?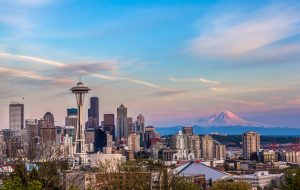 Also important: all interactions would be between partners, no breaking up into groups and "sharing." (I know you used to run a therapy group for couples and you said how much fun it was and it sounded godawful to me.)
And So We Went
The weekend of October 7-8, we joined about 325 couples gathered in a convention center in a suburb just north of Seattle. John  opened with a welcome to the group and added, "I know some of you are here voluntarily." I wondered if it was just some husbands and me who were a little dubious.
We spent the two days listening to the Gottmans talk about marriage and replay scenes from their own marriage. And we did  communication exercises in which each couple went off on their own to tackle an interesting assignment. About once every hour or so an entire level of the building would fill with couples intensely talking and listening, sitting on the floor, in chairs, leaning against walls, around every corner.
The Verdict
To my amazement, Bob and I both found the weekend terrifically helpful, emotionally exhausting, surprisingly entertaining. We arrived without current problems to solve and I hoped not to create any new ones or dredge up old ones. Not only did we avoid doing that, we both wound up much more comfortable with our long-ago worst-ever problem.
It was with considerable trepidation that I headed out to the hallway with him to take on our worst argument–and, no, I'm not going to explain the conflict here.
We had never really resolved any conflicts in the past. We just let the good outweigh the bad and put the bad stuff aside, and that has seemed to work well.
But now we had a method for dealing with the "aftermath of a fight or regrettable incident." (The techniques were spelled out in the workbook for the weekend, but are also likely available in one or more of the Gottmans' many books.)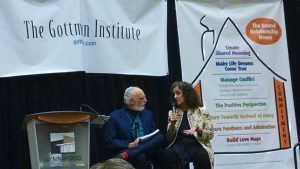 After the Conflict, The Steps
First, wait until you're both calm enough to talk. Then:
Each person tell what they were feeling at the time of the incident, without saying why or commenting on the other person's feelings. Some sample feelings:  not listened to, tense, abandoned, powerless, like you didn't even like me.
Each describe your perception of what happened, without attack or blaming language. Instead of "you said," say "I heard you say."  Each summarize what the other partner has just reported and say something like, "I sure see why you'd be upset." Make sure each partner feels their perception is understood.
Tell any past experience that might have made the episode more intense or hurtful. John and Julie played out for the audience the handling of a conflict of their own. Julie told a story of a relevant damaging incident in her childhood that was so painful still that she cried in the telling. It was brave of them both and intensely affected those of us in the audience.
Acknowledge your own part in the conflict.  It might be as seemingly slight as: I was already feeling stressed and didn't really listen to you.  Be specific about what you regret and apologize. If you can't accept your partner's apology, say what you do need from them.
Each partner says one thing that he/she can do better next time and one thing the other could do to help. Figure out what you need in order to put it behind you. Write a plan for making the conflict better. The workbook adds: "Be as agreeable as possible to the plans suggested by your partner."
We found that these steps worked and we were both delighted.
The Rest of the Week
After the two-day workshop we spent several happy days exploring the Olympic peninsula west of the city of Seattle…
Chasing whales…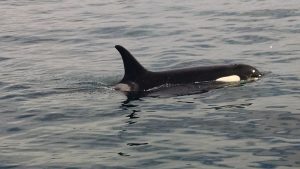 Driving up Hurricane Ridge…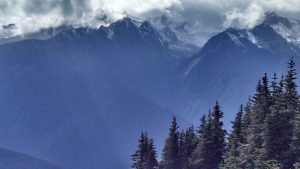 Hiking in mossy rain forest…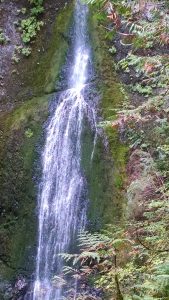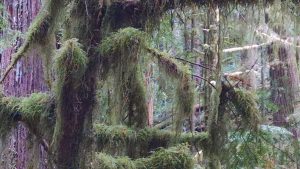 Walking out onto the cold and windy Dungeness Spit…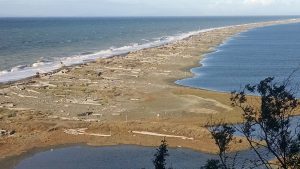 …which was all wonderful, but I agreed with Bob that the trip would have been worthwhile if we'd only gone to the weekend's better marriage workshop.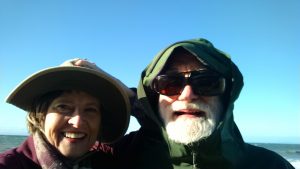 Now back to regular life…we'll see if the next 34 years are even better now that we know what we're doing.
Sincerely,
Peggy
Categories: Uncategorized
Tags: blaming language, communication exercises, do better next time, feeling stressed, good outweigh the bad, Gottmans, John Gottman, Julie Gottman, marriage weekend, marriage workshop, Nicholas, not listened to, Seattle, steps, techniques, worst argument, write a plan