My New Year's Theme: It May Be Too Big For One Year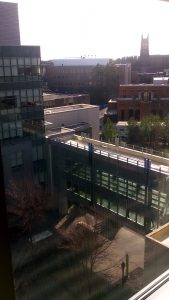 Dear Nicholas, The once-a-month lunch group of spiritual seekers I've met with for the last twenty years had its annual New Year's Theme discussion today, each of us talking about the theme we've chosen for ourselves for the new year.
We fondly call ourselves Mystic Pizza, though we eat at the K&W cafeteria. The idea of a theme rather than a resolution evolved several years ago. I've never felt any strong need to come up with a theme. But today, I arrived thinking I knew what mine would be.
Mystic Pizza Always Delivers
But then in the course of the conversation, or maybe it was walking in the door, I realized that there was another focus for me now that's more important.
I was briefly torn, then decided that 2020 is a two-theme year for me.
My first idea was that my focus this year is on health, living healthy. Lord knows, I need to cut back on sugar.  A bit more aerobics would also be a good thing.
The Plan That Won't Work
Then, I realized that this focus on health is a mostly-unconscious effort to live forever–and magically to keep my loved ones alive forever. While my developing healthier habits would be a good thing, my doing more exercises faster is not going to accomplish either one of these worthy goals.
So my second chosen theme, the big one, is: come to terms with the human condition, which currently includes physical death. My use of the word "currently" gives you some idea of how far I have to go on this project.
What Might Help
I'm not sure how to approach this goal, except by continuing to deal with the threats to life that keep cropping up. For example, in the last few months, three of my nearest and dearest have had scary heart procedures with three hospitalizations in addition. The picture above is the view of Duke Chapel from the hospital's cardio-thoracic floor.
All those who were patients are now fine. I should be grateful and nothing but grateful.
And, Yes, I'm Grateful!
However, I fell into a two-day somewhat-more-than-mild depression Saturday and Sunday, the first full weekend since the last hospital trip. And, as you may recall, I'm already taking an anti-depressant!
Weekday work is a reliable distraction for me, but I don't think it's a good idea to dodge bad feelings by working all the time.
I fell into the same state every weekend for six months after my mother died. That period ended a year ago.  I've been feeling fine, until these recent days. In a way, I take this recurrence as a sign that I'm convinced the danger is over for now and I'm free to react.
I tried out saying the Mr. Rogers style reassurance I came up with recently for difficult days: "Day, I like you just the way you are." It may have helped a little.
The Ingredients of Depression
This particular bad-feeling experience seemed to me a mix of grief and anger, and the absence of much interest in anything.
Anger because there is so much I can't control.
Grief because what I love I can't protect.
Reluctance to do much of anything– I'm guessing that's because neither doing a load of laundry nor enjoying the beautiful day will solve the mortality problem. (I wasted two nice days I could have been playing outside!)
Now I'm back at my desk and feeling (mostly) good. My hope is that the two days of lethargy and misery served some purpose, that they're part of making peace with physical mortality.
I'd really like to make that peace and not need to spend a lot more days of my finite earthly  life moping because it doesn't go on forever.
Peggy
Categories: Uncategorized
Tags: bad feelings, can't control, can't protect, cardio-thoracic, cut back on sugar, developing healthier habits, dodge bad feelings, Duke Chapel, feeling experience, group of spiritual seekers, I like you just the way you are, ingredients of depression, keep my loved ones alive, lethargy and misery, mortality problem, Mr. Rogers, scary heart procedures, should be grateful, taking an anti-depressant, the human condition, threats to life