Feeling Frantic About Christmas?–Email to My Therapist (3 min read)
Dear Nicholas, So far I've failed at being frantic about Christmas this year. I can't say that this is a sign of serenity. Instead, I seem a bit lackadaisical about it.
Whatever else the holiday is to me, it has long been a December 25 deadline.  And I've never even done much about it. I don't cook or play Santa Claus for any kids. I buy presents, and I put up a tree and every year the same wreath. That's all. How complicated can that be? It's the inexorable approach of the gifting deadline that gets to me.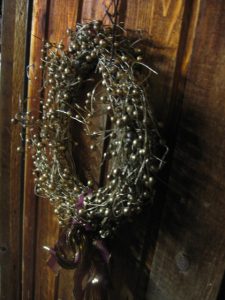 HOW MANY DAYS LEFT?
This year my feeling has been: oh, Christmas? Is that this month?
I've heard from many folks that the first holidays after the death of a loved one are hard. And, as I've said much about here, my mother died two months ago.  I've expected sharp grief again at this point, and that may come still, but so far I'm having an unprecedented ho-hum approach to the whole idea of Christmas.
If I'd ever felt it as a religious holiday, this would likely be different.  Could be that's an option well worth exploring.
Of course I loved Christmas when I was young– up to the point when my father died, he of the white beard and red pajamas (that's Daddy, not Santa Claus) He died forty years ago; I was twenty-nine. I've never felt quite the same enthusiasm for the holiday season again.
HIGHLY PERSONAL NOSTALGIA
Not only were those early Christmases a promise of presents, my family was in the retail clothing business and Christmas was a madhouse in the stores.  One year in my twenties I published an op-ed in The New York Times about real nostalgia instead of the canned sort: mine was for the excitement of being a clerk in the midst of Christmas rush.
I've enjoyed the holidays since those days, but the to-do list has come to be too strong a feature.
This year, I assume my pretty dramatic change of attitude–the absence of feeling frantic about Christmas or even greatly interested–is a grief reaction. But I don't know that for sure.
I was wrong about what I thought was grief a few weeks ago.  I wrote that I'd been seeing flashing lights out of the corner of one eye. I figured that was stress that came from dealing with loss taking the form of a migraine aura. But a reader here emailed me and suggested I see a doctor, that this could be dangerous.
He was convincing, and so I did. I learned that this was not grief or stress; instead it was aging, in particular the gel inside that eye was slipping around a bit. Turned out to be harmless in my case and in most cases, I'm told. In any event, it was simply something that often happens to aging eyes. So it wasn't grief; it was posterior vitreous detachment, turbulence in the ocean of the inner eye.
NOT FRANTIC ABOUT CHRISTMAS?
So maybe I've just coincidentally lost the holiday frenzy.
I did wrestle a tree into place.  Since we live in the woods, I like to cut our Christmas tree and as a result there have been some very unorthodox trees in our house. This time, I wound up sawing down four small trunks of different sizes and tying them all together with ribbon and duct tape. It was tricky; much cursing was involved, but I'm happy with the outcome. Now that it's all dressed, it actually looks like a tree. If it hadn't worked? Well, so what?
I also got out an angel/goddess figure that for me stands for all the holidays of the Yule season.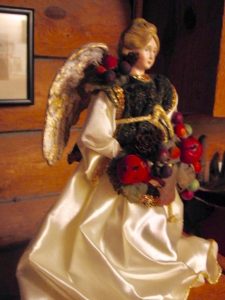 Bob and I will be spending time over the holidays with my brothers and their families. I expect to feel the empty chair pretty strongly then. Last year, Mom made it to Christmas dinner at brother Franc's house. It wasn't easy; she wasn't well and hadn't been going out for many months. She arrived in her hot pink bathrobe, looking radiantly happy, with a sixty-something son on each side helping to hoist her along. We were all so happy. It was a triumphal moment, great to see and be part of.
THE EMPTY CHAIR
On the Easter before that day, she'd sent us all out to eat without her. She'd made a reservation that included her, and so there was an empty chair. We knew it wasn't going to be very long before that chair was empty for real. I found table conversation that day a little hard.
So this time, we'll only be two generations. I ought to be able to deal with this; I'm turning seventy in a mere three weeks; it's not as if I'm an orphaned child. Yet I know we're all still children as well as adult selves, and losing a loved one at any age is hard. I'm perilously appreciative and grateful for the ones still living.
THE CHRISTMAS YOU WANT
Today, I remembered something I found moving Christmas a year or two ago: punk-rocker/writer/artist/activist Patti Smith singing "O Holy Night."
Click below to listen. Maybe I'll never be frantic about holidays again. Maybe that would be okay.
I do find that after writing this and listening to "O Holy Night" a few times, I'm starting to get a little bit into the spirit of the season. Well, I won't fight it.
Wishing you precisely the holiday you most want,
Peggy
Categories: Uncategorized
Tags: able to deal, absence of feeling, after the death of a loved one, all still children, Christmas dinner, Christmas rush, cut our Christmas tree, empty chair, father died, flashing lights, frantic about holidays, grateful, grief reaction, holiday frenzy, holiday you want, lackadaisical, migraine aura, mother died, O Holy Night, Patti Smith, real nostalgia, serenity, turning 70, vitreous detachment