And I Thought I Was a Pacifist
Dear Nicholas, Just clicked to send a contribution to the Ukraine Army, for supplies including ammunition. Not a lot of money, but the fact that I'd do such a thing at all makes me think that in an important way I never knew myself. Never thought I would do such a thing. But I fiercely want the Ukrainians to defend their land and win.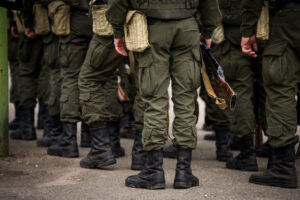 I am so impressed by the Ukrainians' defense of their country. I like to think that if I were one of them, I'd be fighting too. But what do I know about myself? Only a couple of days ago, I thought I was a pacifist and war a crime.
The Impulse to Fight Back
But the two times I have been attacked–once in Bogota and once in Quebec City–I reflexively fought back. Fortunately, neither man had a gun and both gave up pretty easily.
My family tradition, which is to say training, in such matters has been mixed. My grandfather, who grew up hunting for food, served in both world wars and kept a rack of rifles next to his peacetime desk at home.
My father, who never much liked guns, served in World War II in the Pacific as first officer on Army Transport ships, the hospital and supply ship fleet.
He would not carry a gun ashore as required unless he was with a superior officer. He never wanted my brothers to have guns of any sort.
My ancient relatives fought in the American Revolution (both sides) and the Civil War (wrong side.) Well, I've always felt that my native South was the wrong side in that war, but now that I think about it, my relatives were fighting off invaders. So maybe I can understand their actions a little more.
Blind Early Confidence
When I was a student, I failed to protest the Viet Nam War. That was back when I thought, no doubt because I was fortunate, that the world was pretty well run, that the government told the truth, and surely there must be a good reason for us to be fighting a war. I was wrong. Since then–up until the past week– I've been against anyone shooting at anyone. And opposed to the death penalty in any circumstance.
But with this attack on Ukraine, I want the Ukrainians to shoot back.  (Though I do feel bad for Russian soldiers who have been forced into this fight)
Given that I support the Ukrainians, do I want my country to send troops? Briefly, I thought maybe so. But then I realized that I could never support my young nephews having to go and fight. No! I don't want them to pick up guns anywhere.
So I find myself in the not especially heroic position of wanting to stay safe, keep my loved ones safe, and have Ukraine magically safe and peacefully independent. Philosophically, I guess my stand is 1. self-protective 2. against anyone shooting first.
Buying Bullets
Fraud alert: I just got a notice from my credit card company that the site where I tried to send money to the Ukrainian army was a fraud. Now I'm not sure what site to trust. I must get this pittance to them: my not-so-valiant effort. (Looking at images of fighting, I'm already starting to question my choice to support fighting. Is it simply my rash anger? Is there a better way that will work?) If you have an address you know is reliable, I'd love to know. The ones that have been recommended to me look exactly like the one that was a fraud. Or was the fraud alert a fraud? Must find a way.
I'll deal later with the considerably less urgent matter of whether I know myself at all.
Peggy
Categories: Uncategorized
Tags: Army Transport ships, defend their land, failed to protest, fighting off invaders, Harry Payne, know myself, never knew myself, opposed to the death penalty, question my choice, rash anger, reflexively fought back, send a contribution, send troops, the Ukrainians, Ukraine defense, war a crime, was a pacifist