8 Self-Soothers, 2 Reminders, 1 Fresh Resolve
Hi, Nicholas, I put together a list of activities I'm finding calming in these unsettling times. Eight highly-personal-to-me self-soothers or restorers of balance. I'm convinced that inner equilibrium is a small step toward health and world peace.
The List
1. Contributing to favored causes in several smaller amounts on separate days instead of one larger one. Gives me the feeling of continuing to be useful.
2. Consuming Harris Teeter No-Sugar-Added Moose Tracks Ice Cream. Magical! Tastes like sugar, yet confers feel of dietary virtue.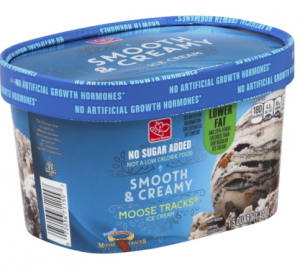 3. Extra sleep. Pretty much irresistible.
4. Work on my book-in-progress and on manuscript critiques for others. I'm lucky I can work in lock-down at home.
5. Gardening.  Here you see the last of the roses, as well as two of the few but treasured current blooms in our shady woodland patch (we also have heavenly gardenias), and my fetching insect-repelling gardening apparel (we have hellish ticks).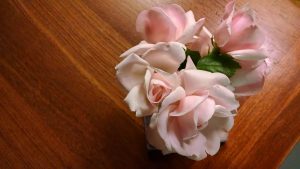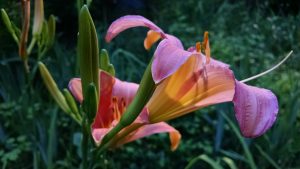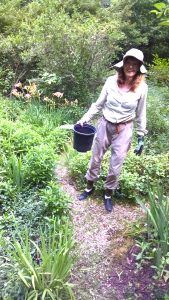 6. Coloring. I've had a resurgence of enthusiasm for this childish pastime. It's weirdly engaging.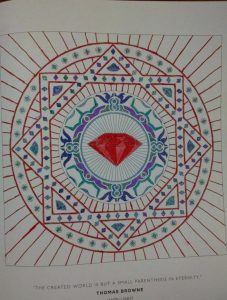 7. Reading fat dense novels that require total immersion to enjoy–challenging prose or stories of a different time or place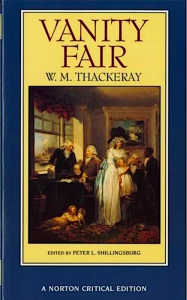 8. Telling myself that the racial strife is at a pivotal point and we're painfully turning now toward a better world.
What's not at all soothing
…in our continuing stay-home-stay-healthy routine:
*The increasing clutter. Witness my "floor office" at home with research for my book-in-progress.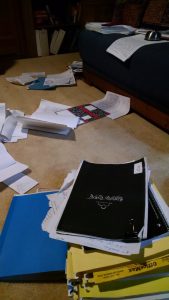 *Attempts to get better organized. These only add to distress.
Two Reminders!
*So much is good in my life: love and work and even the unexpected respite and rethinking of long-established routines.
*I must not get complacent about PPEs on grocery store runs. The numbers of new virus cases in this state breaks the record again day after day.
One Fresh Resolve
I told husband Bob I wanted to find a way to stop being so hard on myself. This habit doesn't lead to anything good. He dug out of one of his book piles a copy of Hardwiring Happiness. It suggests focusing on small daily good experiences for ten to twenty seconds each, thereby beefing up the happiness wiring in the brain. I'm going to do this. It seems easy compared to the impossible task of stopping thoughts I don't want.
And now that I think about it: two other small reliable self-soothers–blogging about my inner workings and making lists.
I think that's all for now.
Peggy
Categories: Uncategorized
Tags: be useful, challenging prose, daily good experiences, extra sleep, fat dense novels, finding calming, get complacent, Hardwiring Happiness, lock-down at home, making lists, manuscript critiques, pivotal point, racial strife, restorers of balance, stop being so hard on myself, stopping thoughts, total immersion, unexpected respite, wiring in the braininner equilibrium