The Many Delights of Breathing Air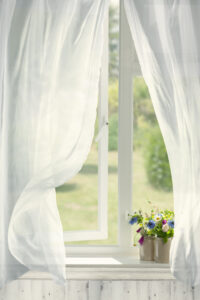 Dear Nicholas, At least once a day I feel greeted by a faceful of new air, air that feels so freshly different from whatever I was used to and already taking for granted. Oblivious though I am to so much, I take regular delight in breathing air.
The new air will be crisper or heavier or moving in a different way or maybe smell of gardenias, pine, cut grass. If it's soft and damp, I think of it as Wilmington air, in honor of my North Carolina hometown. Most of these airs are nameless, but "deeply" lungfully appreciated nonetheless.
The poem I've pasted here–the only one I've written in the 56 years since I was in high school–celebrates the pleasures of breathing air.
Connoisseur of Air
Tweed sky over northern isles. the tender cold silts down:
Prized collectible if one's a connoisseur, a taster of air.
Remember water-weighted atmospheres?
Algae-green, bruise-yellow, Varanasi's sweating ginger smoke.
Breezes off the Carolina beaches
Food Lion parking lot strung with flapping plastic flags,
Buy a crate of berries, quart of milk, tendrils by the dozen of savory salt air.
Dogs who hang their heads out windows ride
with ears flying, tongue hanging, eyes watering.
They too are connoisseurs of air.
Bare feet, also, know what's slowly
swimming past, weaving through the summer grass.
Winds are christened: Ostro, Sirocco, Mistral, Levante.
Dry insistent gales that carry freight of sand: far-flung Saharan grit
to grind between the teeth, dig from ears and hair.
Yet air itself, drunk straight, is soft, subtle, changeable;
can surely break a heart.
Who could manage more than brandy sips
of potent deliquescent air?
Wishing you a light-as-air day,
Peggy
Categories: Uncategorized
Tags: atmospheres, brandy sips, breezes off the Carolina beaches, celebrates the pleasures, freshly different, Levante, Mistral, new air, Ostro, pleasures of breathing, Saharan grit, salt air, Sirocco, summer grass, Wilmington air