Surprising New Stage of Grief
Dear Nicholas, My new stage of grief is flashing lights. Visual distortions, like at the start of a migraine, but the headache never happens, and the lights go on and on.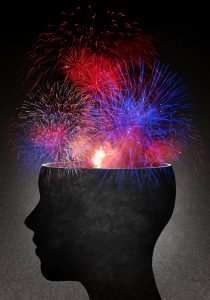 This past Friday morning, my brothers and I began the process of dismantling the homestead, clearing out my mother's house.
Much of the time, to my amazement, we actually had fun, turning up gems in the memorabilia, such as my glow-in-the-dark fifth grade tap dance costume, embroidered with sequined hula hoops, now almost 60 years old.
And there was the deeply stirring, fascinating stuff that none of us had ever seen. In a little chest that had long been in plain sight–which I had never opened–were stacks of my father's letters to Mom before they were married, return address War Department…. For about a year, he was writing from ships in the Pacific.
Also in that box, a shoe he wore as a toddler, circa 1916.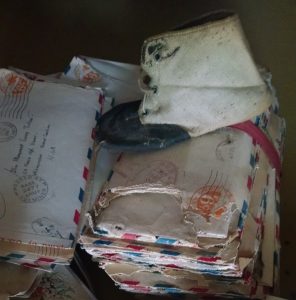 Brothers Franc and Harry and I emptied drawers and chests, the attic, and "back room" full of carpet scraps and tools and antique water skis.
Through the process, we learned lots of new things about each other. My brothers were delighted to discover that I had made a C in trig and scorched a spot on the living room carpet while burning incense in what passed for my patchouli period.
Among more "recent" finds: the toy of a grandchild now in his thirties.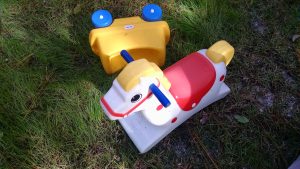 Before we started the process, I took pictures in every room.  I wanted to be able to look at how it had been.  Here's Mom's desk in a corner of the den. Her desk chair went to my car to come back to my own office.  I also brought back her address book in her handwriting, with a note in it to us to help us deal with this process, and two of her sweaters, in different shades of her favorite color: red.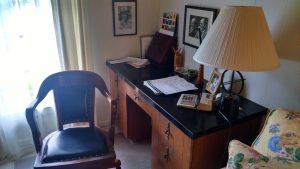 There were many poignant moments. Now and then guilt threatened–I should have been a better daughter, etc.–but I managed to hold that at bay.
I kept thinking that this should be more painful. But my brothers are such good company that it wasn't.
And then when I was almost home Saturday night, I started seeing the flashing lights, sizzles of white neon off to my right. At first I thought it was headlights hitting my window on the passenger side. An hour later, sitting on my sofa, I knew better.
I haven't had a migraine in more than thirty years, thanks to help from you, Nicholas, and from my psychologist husband Bob. Before that, I'd get one sometimes when the pressure of some project or effort was suddenly gone. To get rid of them, I learned to hypnotically make some sort of internal adjustment as soon as I got even a hint of the visual distortion, the aura, that would usher a headache in.  After a while, I didn't even need to make a conscious effort. The headache-stopping process would kick in automatically at the first hint of oncoming migraine.
So I was taken by surprise this time. Now, three days later, I'm seeing only a few flashes. They look more like this than the idealized headache above.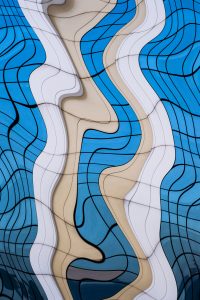 I'm happy that the headache never arrived; it was never more than a few weak shadows of discomfort.  And fatigue! I've slept most of the two days since I got back.  I have high hopes for staying awake tomorrow.
I wonder if sadness would be easier or harder than this physical stuff. I'm not sure. It might be more "normal" but that's not something I strive for these days.
There will be more stages of grief, I'm sure. For one thing, we'll be dealing with the house for a while. Guess I'll just ride the wave and see what develops. And writing this helps me so much.
With love,
Peggy
Categories: Uncategorized
Tags: aura, better daughter, clearing out, dealing with the house, father's letters, flashing lights, guilt threatened, headache-stopping, hypnotically, memorabilia, migraine, new stage of grief, Nicholas, oncoming migraine, psychologist husband, return address War Department, stages of grief, visual distortion