So Much Going On
Dear Nicholas,  Seems to be a pivotal time here. Probably so for a lot of people. Here's what's going on with me: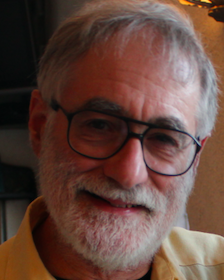 *Husband Bob retiring after more than 50 years as a psychologist in private practice. Yesterday was his last day with Chapel Hill patients. He has so loved doing this work. Quite a dramatic change for both of us.
*Got a new literary agent to represent the biography/memoir I've been working on for many years: MISS CHANT OF COTTAGE LANE: The Making of a Mystic.
Artist and mystic Elisabeth Chant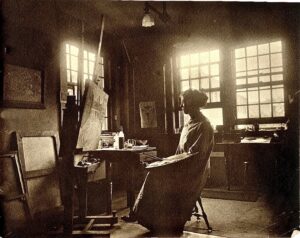 *Horrified by Hamas atrocities against Jews. I sympathize with both sides of the Israeli/Palestinian dispute,  but not with the actions of Hamas. I pray for the hostages and their families. I used to question the idea of war crimes, thinking that all war is crime. Recent events in Israel and Ukraine have made me rethink that.
*In the midst of an uncharacteristic binge of entertaining, about which I'm usually very nervous. In a stretch of 8 days, have had house guests and 3 days later a lunch for 14 friends in town for our college reunion and tonight, friends for dinner. This last one I'm not the least bit worried about.  I now have shaken off hostessing fears, at least for the moment.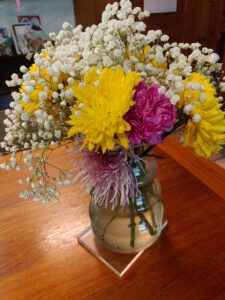 Flowers for school friends' lunch
*Bob just finished six months of treatment for a recurrence of prostate cancer.  Cancer treatment is an exhausting arduous business.
*Speaking again next week about my novel MY LIFE ON EARTH AND ELSEWHERE, a story like all my others in that it's about the largest mysteries, where we come from and what's "on the other side." This time I talk to a group of people who've worked at the state Legislature. (I'll be happy to talk with your group as well.)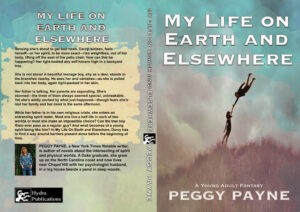 *Two projects in hand from other writers. I continue to critique manuscripts. Haven't yet retired myself. Probably never will.
Just felt like sending a quick update–and my wishes for peace on Earth.
Peggy
Categories: Uncategorized
Tags: artist and mystic, Bob Dick, cancer treatment, Cottage Lane, critique manuscripts, dramatic change for us, Elisabeth Chant, Elizabeth Chant, going on, Hamas atrocities, hostessing fears, literary agent to represent, making of a mystic, My Life On Earth And Elsewhere, pivotal time, pray for the hostages, psychologist in private practice. Chapel Hill patients, recurrence of prostate cancer, talk with your group, the other side, war crimes, wishes for peace on Earth