Feeling Unattractive
Nicholas– I have a band-aid on my face. One little awkwardly-located temporary band-aid should not lead anyone to feeling unattractive. This is vain, shallow, and petty of me. Doesn't bode well for a peaceful ancient age.  However….
It's between my nose and upper lip, sort of like a pink mustache. I feel it when I talk, eat, drink, or engage in facial expressions. It's hard to forget, and it does lead me to feeling unattractive. Remember acne? It's like that.
It's such a trivial matter. I'm not maimed by war or fire.
And I'm very lucky. The skin cancer that led to this band-aid was hardly anything. It could have been big.
Worst-Case Possibilities
When I knew I was going to have the spot removed, I made the mistake of Googling the procedure and saw pictures of faces immediately post-op that look like hatchet attacks. Turns out that skin cancer can look like a tiny spot on the surface but be much larger; it can spider out all over a face. The surgery can also damage nerves and cause some facial paralysis.  I was lucky none of that happened to me.
So now I need to transcend the band-aid.  Especially if I plan to have a long life. I understand that old age can involve many band-aids.
An Awkward Moment
I'm being a reasonably good sport about it; haven't gone into hiding. I even handled a band-aid mini-crisis yesterday. It came half off and started flapping while I was animatedly chatting with a new writer client. Flapping! In a meeting! The indignity of it! I pulled it off and remained band-aid-free for half an hour.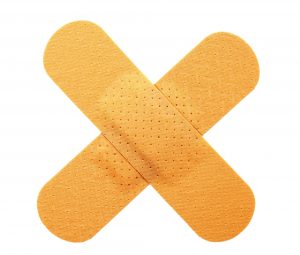 I'm supposed to put a new one on every day, which I have now done for 12! days; and I'm told I have a couple of weeks to go. Maybe by then I'll have a new maturity, but I doubt it.
I've long told myself that if I ever came down with big cancer–the kind that makes you lose hair and body parts–that the experience would change me in ways that allow me to deal with the experience. Now I'm not so sure about this.
I do find that I've been relatively untroubled so far by the gradual changes of aging. (I remind you that I'm 68.) When it happens slowly, it seems normal. That has been a pleasant surprise.
Still, I'm awaiting the invention of a drugstore smear-on facelift lotion. The whole procedure in an over-the-counter bottle. Cheap and non-invasive, with no telltale scars or recovery time. I know it's coming: the demand is huge.
Lurking in Rite Aid
In my drugstore forays in the meantime, I'm becoming a connoisseur of band-aids: the sizes, the shades of pink and tan and ecru, the plastic versus mesh, or the see-through shiny ones that give me a rash.  I can tell you this: there are no perfect band-aids.
Thank you for this chance to air my petty gripes. I'm waiting for this experience to be character-building.
Peggy
Categories: Uncategorized
Tags: band-aid, band-aid mini-crisis, facelift lotion, gradual changes of aging, maimed, maturity, old age, peaceful ancient age, petty, plastic versus mesh, post-op, Rite Aid, shallow, skin cancer, upper lip, vain, writer client