Depression Distorts
Dear Nicholas, This is short and troubled. I know I am unqualified to speculate. Still, I have this to say about the suicide of Anthony Bourdain: Even mild depression distorts thinking and causes scalding pain.
Given how much he self-medicated for many years, his depression was surely a lot more than mild. In the decisive moment, I don't believe he had the capacity to weigh his choices and responsibilities and hopes, any more than someone would who was on fire.
When I look at his pictures today, I hear a small-child voice saying, "Mama, my thinker is sick." It wasn't always, of course: he had so much curiosity, talent, and raw life force. He was so accomplished, published three novels well before he became a world culinary guide.
It may be a little while before I can enjoy watching him again on Netflix, but I'll be back.
I remain a fan.
Peggy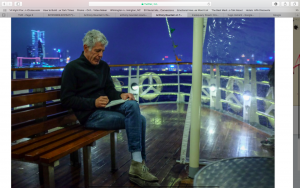 Categories: Uncategorized
Tags: Anthony Bourdain, Bourdain, culinary guide, decisive moment, mild depression, on fire, self-medicate, suicide