Body Painting For God
Last week Hindus celebrated the religion's splashiest, wildest, most sensuous holiday. Holi is the ecstatic festival to honor the start of spring, the fertility of the land, and the triumph of good over evil. I know of no other religious holiday in any faith that can compare.
Holi is the time of year when celebrants cover each other in colors, flinging and smearing brilliant powdered colors, dumping buckets of bright-tinted water. The brashest of Easter eggs pale before the saturated shades of Holi.
This festival erupts the day after the early March full moon. Subhamoy Das offers a vivid description on Hinduism.About.com
During Holi, practices, which at other times could be offensive, are allowed. Squirting colored water on passers-by, dunking friends in mud pool amidst teasing and laughter, getting intoxicated on bhaang and reveling with companions is perfectly acceptable. In fact, on the days of Holi, you can get away with almost anything by saying, "Don't mind, it's Holi!" (Hindi = Bura na mano, Holi hai.)

The Festive License!
Women, especially, enjoy the freedom of relaxed rules and sometimes join in the merriment rather aggressively. There is also much vulgar behavior connected with phallic themes. It is a time when pollution is not important, a time for license and obscenity in place of the usual societal and caste restrictions. In a way, Holi is a means for the people to ventilate their 'latent heat' and experience strange physical relaxations.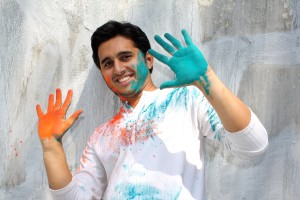 So far I haven't had the pleasure of taking part in Holi myself, and I'm not so sure that I'd really like it. I hope I'm wrong about that, but I recall once in college in the late 60s turning up for an exam I'd studied for most of the night and the professor offered paint and chalk and all kinds of crafty items and told us to express ourselves. It was a journalism class; I had on a white wool dress and a date immediately after the "test": I spent the time expressing my views of this exam in a letter to the professor. But as a religious celebration of spring and goodness, a reveling in spring colors, I at least love the idea.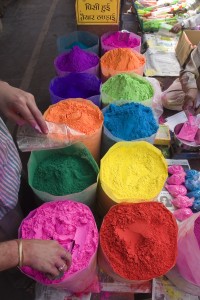 Body Painting, Color Splashing: Exuberant Ecstatic Physical Worship
My closest friend in my winter in Varanasi, India, my neighbor Usa, confided, "Holi is my holiday." I had trouble picturing this, as she seemed so quiet and dignified; I imagine that there are degrees of Holi celebration.
The name comes from Holika, a demon or monster or devil. Among the origin stories of the holiday are that of Lord Krishna defeating Holika, and of the love between Krishna and Radha, of Krishna's characteristic playfulness.
Each color has symbolic meanings: red, purity; green, vitality. One could say that the celebration is color therapy on a massive scale.
If you have 4 minutes and 51 seconds, please watch the video presentation above. And have a look at these photos. I think they all convey the spirit, the celebration and joy that are a proper expression of spirituality.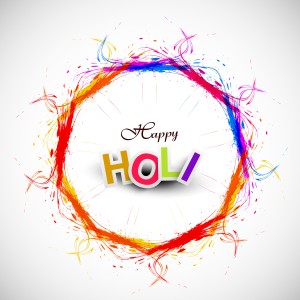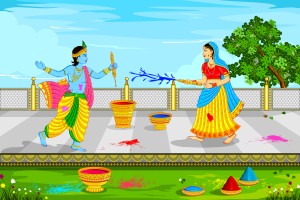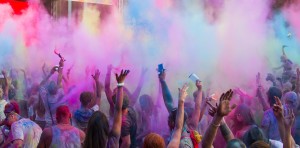 Categories: Uncategorized
Tags: body painting, celebration, color therapy, ecstatic, Hindu, Holi, intoxicated, Krishna, license, sensuous, spirituality, spring colors