An Old Shame That Doesn't Feel Old
Terrible things happened a while back in my North Carolina hometown, Nicholas. I just read more and learned a lot I hadn't known. My reaction is especially raw and personal because of how much I love the town and feel part of its history.  It's an old shame that doesn't feel old; I guess that's the nature of shame.
I Wanted to Hide My Eyes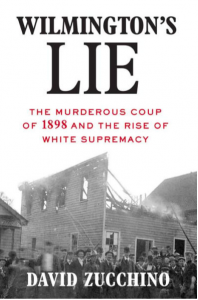 I'd dreaded and even thought I might avoid reading the book–Wilmington's Lie. I didn't want to feel the pain. But a friend (since first grade), another Wilmington native, composer Meira Warshauer,  asked me to please read it. And I even slightly know the writer–Pulitzer winner David Zucchino, who was a reporter in Raleigh when I was. Finally I read it and am going over and over it in my mind, comparing the safety and comfort I felt growing up there with the threat that has hung over black people there, the chilling effect that has to have lingered.
That picture on the book cover is the white mob. Behind them is the black newspaper's office which, as you see, they burned.
 So Close and Personal
Of course I'm appalled by the killing of George Floyd in Minneapolis and similar atrocities in so many other cities. By the fact of them happening and happening now. But Wilmington!–such a beautiful place between river and ocean, full of good memories and people I love–I want Wilmington to have known better.
It was not so. Instead Wilmington was the setting for a historical worst: the only violent government take-over ever of an American government. In 1898 white supremacists massacred sixty or more black people and ran more than 2,000 out of town. They did it because the population was 60% black, including prosperous black business people and professionals. The white instigators didn't want blacks elected to office.
A Public Secret
It was a secret kept for about 100 years, passed off when mentioned as a "race riot," as if blacks had started it. Not true: it was a slaughter carefully planned and set in motion by some of Wilmington's leading citizens, first spurred by then-publisher of the Raleigh News & Observer.
I know the grandchildren of several of the major players. The whole thing just hits too close to home. My personal connections make the horror real in a hyper-vivid and intimate way.
I was in my twenties before I ever heard any mention of it. I should have asked questions then. I didn't. The date of 1898 seemed somewhere between the Pleistocene and the Ice Age, which is of course no excuse for not finding out more.  Now I'm old enough to see that these events are pretty recent, in the age of grandparents. And that black families alive now lost legacies that would have been theirs. All of this should have been in the public schools' required course in North Carolina history.
I did see the report that the state commissioned which was made public in 2006. I knew facts, but Wilmington's Lie delivered moment-by-moment experience and how it grew from wide-spread pervasive racism across the state.
What to do now?
My friend Meira has organized a Zoom meeting between nine students in our high school graduating class at New Hanover and about that many who graduated the same year from Williston, the town's black high school. We all went to school there in the days of rigid segregation, which some of us, including me, blindly failed to question at the time.  The idea for the meeting is to make a connection, meet some of the people we missed out on, hear about what life was like for them in that segregated time and violence-scarred place, and talk about what any of us can do now that would help.
I'm glad I read the book, glad I'm going to be in on that conversation, and grieved by the violence, what led to it and what it caused.
Also, a minor but painful reaction, I feel sadly protective of all that's good about my hometown.
Peggy
Categories: Uncategorized
Tags: 1898 white supremacists, atrocities, black business people, black newspaper, chilling effect, David Zucchino, failed to question, killing of George Floyd, lost legacies, Meira Warshauer, Minneapolis, nature of shame, New Hanover, news & Observer, race riot, rigid segregation, violent government take-over, what to do now, white mob, Williston, Wilmington's Lie