Sharp Unprovoked Sadness, Coming and Going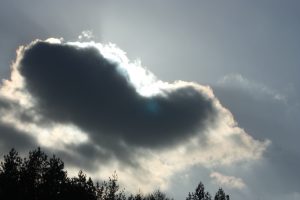 Dear Nicholas, This week for a couple of days, I felt sudden onslaughts of seemingly unprovoked sadness, like clouds crossing a mostly clear sky, suddenly arriving, gradually departing. By unprovoked, I mean having no obvious immediate trigger. I told husband Bob about this Thursday night and he said, "Death is sad."
Yes, it is.
Nobody in my closest circle is clearly actively dying right this minute. However, death is in the air for me more than once was the case.
Calling the Roll
Last week a client of mine died suddenly; she lived in New York and I hadn't met her, but reading someone's work as it evolves, knowing her goals and struggles with it, is also intimacy.
Three weeks ago, a friend of Bob's, warm long-time acquaintance of mine, died.
And then my mom is 96 and frail and Bob has had several serious health problems in the last year and a half.
I guess that's what's moving these traveling shadows across the sun–death–but I never feel a trigger for the emotion in the moment.
When I'm driving is when it has tended to strike. That's when the cloud suddenly darkens the road. What will make it vanish again is getting out of the car and involved in a more engrossing  activity.
Two Other Ways to Deal
In the moment, I use two ways to deal with the feeling: one, let it linger until it departs, and two (your suggestion), focus on gratitude for who's still with me and time I've had with those who're gone. (I remember your email that said in total, "Gratitude for Joel," a message complete in itself.)
Even so, these passing clouds make the ground below me and the scenery around me more clearly temporary. I walked with a 90-something friend of Mom's out to her car a week ago and she said, "It doesn't get any easier."
I've written about this here before and no doubt will again. Seemingly unprovoked sadness has its deep roots.
It's quite a large matter to cope with–this disappearing of the living–and I think we all deserve a lot of credit for coming to terms with it all.
Yours, feeling pretty good at the moment,
Peggy
Categories: Uncategorized
Tags: closest circle, coming to terms, death is sad, deep roots, died suddenly, feeling pretty good, focus on gratitude, immediate trigger, make it go away, reading someone's work, serious health problems, shadows across the sun, sudden onslaughts, ways to deal