A Fierce Immune System Means Worse Side Effects?
Nicholas–I had my second shot (and hope you've had yours) and I now have new respect for sufferers of full-blown Covid-19. A few hours of the side effects of the vaccine–and that's all it was, about 18 hours–were a shock. I've read that the stronger one's immune system, the worse side effects may be. Apparently, I have one fierce immune system, a real beast.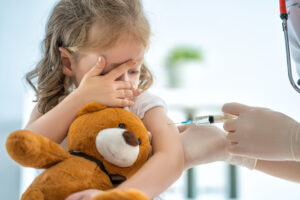 I had the shot at 2 p.m, followed by a walk at home with Carlo the Dog loping along beside me. After days of rain, the sun was bright on the tiny streams zig-zagging down the gravel road. I felt light and joyful that it was a gorgeous day and I would soon be 94.1% safe and on my way to re-entering the wider world.
About 10 p.m. I started feeling a bit uneasy and soon went to bed.
Then came, all in a swoop:
chills
headache
painfully stiff neck
waves of heat
dizziness
back too painful to stand for long
joint pain
weakness
misery
When I finally fell asleep, I dreamed I was a layer cake made of an odd collection of materials that was falling apart.
When I fully woke up at about 5 p.m. the next day, there was nothing left of the trouble but fatigue and a quickly passing hint of chest pain.
The following morning I was fine. And then that evening: faint free-floating sadness, perhaps because it's in the nature of things that people get sick and die. But that will pass; denial will be at full flood again soon.
A Tiny Typhoon
One way and another, the second shot was a little whirlwind that spun me around and then left.
Of course I knew I'd write this and so in the midst of my mini-illness I took a selfie, a picture that will never see the light of the blue screen. It looked like Monet's painting of his wife on her deathbed. Not flattering.
I've never been sicker than I was for a few hours. (Though, the fact that I was able to reach for my phone and take a picture shows I've had a lucky healthy life, have never been seriously ill.)
I am so sorry for anyone who has been through days and weeks of the full impact of this virus. Those who've survived have weathered something awful, and often in isolation.
I am so glad I could get that shot, and that light-hearted walk.
Vigorously wishing everyone well,
Peggy
Categories: Uncategorized
Tags: chest pain, chills headache, denial, fatigue, fierce immune system, free-floating sadness, full-blown Covid-19, get sick and die, heat dizziness, isolation, joint pain, second shot, side effects of the vaccine, stiff neck