18 Highly Personal Lockdown Quirks
Cobwebs in my car?  Nicholas, I gotta tell ya: this business of staying home for months has produced some surprising little lockdown quirks at my house.
Two messy people in a log house in the woods do expect surprises–like the possum that once got into our semi-outdoor washing machine–but these months at home have produced some new kinks.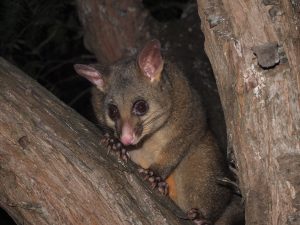 A partial list of these trivial but startling discoveries:
*Not only cobwebs in my car, but weeds in the driveway
*Zoom. Now I see myself as ithers see me.
*Canned beans. At first I was surprised to discover how many kinds there are. Now the variety doesn't seem so large.
*Hair down to my second shirt button. Split ends at a clinically diagnosable level.
*Drawing. Never did more than a few attempts at sketching and hadn't for years. Now have started playing with it again. (It's not that the bear dances well, it's that the bear dances.)
*Forgetting my mask. I'm capable of doing that–have a couple of times–even though it's a life-and-death matter.
*Plants watered more than occasionally do a lot better. When I was at the office during the week, they were lucky to get a drink on a Saturday. I thought it was impossible for anything planted after May to survive in North Carolina. Not so.
*I can live without going to my office.
*Absence of French. Studying a little French has long been a hobby of mine. Seems this would be a good time to do that, but I have been unable to make myself read, listen to, or say one word of it. A friend who is only reading books he has read before says it's too much to ask of ourselves now to learn anything new. Just way too much.
*Streaming. Out in the country where we are, with terrible phone reception, I didn't think our TV would stream. I discovered it will, opening vast new worlds.
*Watching the ocean on TV.
I grew up on the coast and I am longing for salt water. I dreamed a few weeks ago that I was desperately searching a city for the office of Dr. Ocean. (Did I tell you this before? Well, hearing stories more than once is often the fate of a psychotherapist.)
*Weight loss. When I saw in the first week at home that I was snacking almost continuously and quickly growing, I told myself: okay, three meals and one snack a day, tops. Nine pounds went away. I note this in part, because in my eating disordered twenties, losing weight was a way of dealing with problems. I don't think that's happening now, because I've stopped losing;  but I keep the risk in mind.
*How much food Bob and I eat and how much garbage we produce. When it's all happening in one place, the quantity is dramatic. For a pair of not-huge oldsters, we're serious consumers.
*Reading a wider variety of books. Not just literary fiction about dysfunctional relationships of highly-educated contemporary urbanites. I even read a (literary) historical fantasy last week.
*Getting to sleep more difficult again.
Obsessing over mistakes I've made, damages I've done in life, as soon as I close my eyes. This tendency being a major problem of mine, it shouldn't be any surprise that it would crop up a bit at this time. Still, I don't like it. I need the sleep.
*Itchy feet. Since I do like to travel, this could be a metaphor. It's not. The soles of my feet started itching in the first couple of days at home and haven't stopped.  There's no sign of any skin problem. I think this is weird.
*And travel? Well, Bob and I signed up a year and a half in advance for a cruise we were really excited about, in the far North this December to look for Northern Lights. (We both like to read, eat, and look at water, so it was a win-win, Lights or no.) In all the world a few cruise lines went back into action this summer; one had serious problems. Guess which one!  the one we signed up with, Hurtigruten, which also serves as a ferry service between coastal towns of Norway (no big nightlife or casinos, mainly good food and windows with views) They had an outbreak of 62 cases, potentially exposing folks in dozens of coastal towns.  So–maybe next year?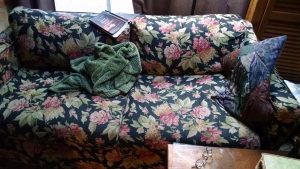 *The sofa. I work there and I read there. Sometimes sleep there. Also draw and snack there.  And do crossword puzzles. Getting up from the sofa can feel like an outing. Sometimes I feel as if I'm weighted there.
*More possums. On three different days, a youthful possum walked by me outdoors only a few feet away.
Maybe the same one, maybe a litter. At first I had no idea what I was seeing. Way too big for a mouse, not a rat or a rabbit or a vole or a mole or like any possum I ever saw before. Had to Google to find out what it was: a heedless adolescent possum, unwilling to do its civic duty by staying home.
*Fond hope: that the power not go out. Don't like the thought at the moment of no AC, no computer, no water (since we have an electric-pumped well.)
What about you? Any interesting surprises? I'm guessing that we all have some personal lockdown quirks.
Still lucky to be healthy and have the power on,
Peggy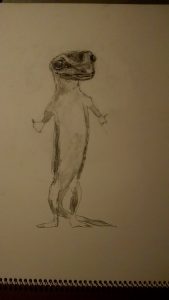 Attempt #1  Debuted on Facebook. Geico's answer guy explains everything.
#quarantine quirks
Categories: Uncategorized
Tags: eating disordered, forgetting my mask, getting to sleep, getting up from the sofa, hair down, hearing stories more than once, highly personal, itchy feet, longing for salt water, obsessing over mistakes, personal lockdown, psychotherapist, see myself, serious consumers, sleep more difficult, snacking almost continuously, staying home, too much to ask, watching the ocean, way of dealing with problems, zoom