17 and 71: Facing Aging, Aging Face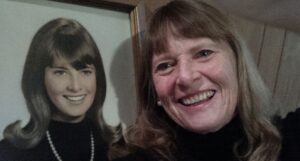 Dear Nicholas, As my brothers and I were packing up our mother's house, I took the high school picture of me off the wall and saw I was at that moment wearing the same hairdo and a black turtleneck just like in the picture– at 17 and again at 71. It was a strange moment of facing aging.
The Face Has Changed
Fifty-four years since that first picture. No surprise that I've aged. But I was startled to note that my style apparently hasn't budged. Or perhaps more accurately, after years of different haircuts, I'm back to my set point. (BTW, I did not look quite like that at 17; my parents had my school picture colorized and I'd bet the lab deleted some frizz too.)
On my birthday, I'm saying farewell to 71. I didn't think of this as a "big" birthday until I looked again at the old picture. Somehow reversing the 7 and the 1 felt significant. What a difference a change of sequence makes! And now I'm on to 72, an increasingly dignified number.
What Stayed the Same
The bangs, the turtleneck, the better parts of my inner world–they've stayed much the same. As for my surface style, I must have fallen permanently under the spell of Peter, Paul, and Mary. I did love their music. Didn't realize I was trying to look like Mary. And it was the mid-60s then when I was supposed to be looking toward hippiedom, not back to the beats. I sure didn't know I would go into old age under the beatnik influence.
Hello to 72
Two things must be said: I'm delighted to be alive and healthy. And I know that to my eighty-something pals I'm far too young to be concerned with age. A third thing: I'm lucky and grateful my health and physical self haven't changed more.
Even so, I do notice the change, as I've mentioned before. Several times.
Not Backing Off
I was just now reading a journal article my psychologist husband Bob brought home, "The Analyst in Winter" in Modern Psychoanalysis. The author, Lucy Holmes, talks about such matters as the time when an aging therapist stops taking on new patients for the years-long process of analysis.
And I've heard more than one 70+ person say they hesitate to get another dog because they wouldn't want to leave it in the lurch by dying.
Well, golly! I'm not going to stop doing anything I want to do as long as I'm able to do it. Good thing I'm not a pro ballplayer or a movie star.
I'm convinced that having lots of multi-year projects is the key to living forever.
Not My Last Car
A friend of mine went to buy a new car and the salesman said to her, "Now you need to think about that this is your last car." She was horrified. He barely avoided getting slapped. Telling the story to her equally indignant and somewhat younger friends, she said, "Y'all, don't ever tell anybody it's their last car." (Have I told you this story before? I do repeat stories these days, but then I did that back when I was 17 as well.)
The Stars
I browsed a few horoscopes about my year of age 72 and picked out bits I liked.
1. "…People born in the Capricorn sign…. have impressive ambitions that will get fulfilled this year…!" Also: I'm to make substantial money doing what I most love, but must be patient until September.  yearly-horoscope.org
2. "Avoid overworking yourself in 2021. Success is bound to come your way, but your heart and mind need to be replenished…."  astrology.com.
3. "You are called upon to rid yourself of guilt about under-performing, and to develop faith and trust in a larger more spiritual plan." cafeastrology.com
4. "…A new, radiant you will emerge…"   astrologyzone.com
Plus, the entire Internet seems to agree I should avoid excessive spending. Seems like a reasonable trade-off.
(I got an Indian horoscope reading in Varanasi when I was researching my novel Sister India. What I remember is the guy told me I could talk about any subject without having "touched" it, without having done any study. Didn't take that as a compliment.)
Instead of 72 candles
So how will I celebrate the unfolding of this auspicious year?
*By lingering over it, savoring it as much as possible.
*By trusting that the nation and the world will have a good–a steadily improving–year.
*Maybe by giving my heart and mind more rest. After the holidays in lockdown, I think I've already got a start on that.
Thanks for listening to these birthday musings. I'm happy to entertain advice on how to be 72. And, confident in the knowledge  that we are all going to live forever, I wish you an excellent year.
Peggy
Categories: Uncategorized
Tags: 70+ person, aging face, aging therapist, Analyst in Winter, auspicious year, avoid overworking, beatnik influence, big birthday, cafe astrology, Capricorn sign, concerned with age, delighted to be alive, eighty-something, face has changed, high school picture, inner world, key to living forever, lucky and grateful, Lucy Holmes, Modern Psychoanalysis, ordinary highs and lows, Peter Paul and Mary, repeat stories, rid yourself of guilt, spiritual plan, stayed the same, surface style