The Wicked Allure of True Crime and Celebrity News Today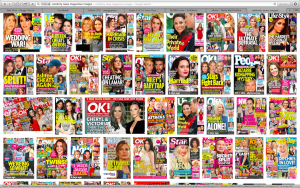 Dear Nicholas, I'll lose some readers by admitting this. But not everything one emails to one's psychotherapist is admirable. Here it is: I am fascinated by true crime stories (why would anyone do such a thing?)  And one of my first crucial morning questions to myself is: What's the celebrity news today? In that second category, I enjoy relationship updates but do tend to focus on scandal.
These two prurient interests combine to make a time-wasting, titillating, not very uplifting habit. I'm not ashamed of it: we all have our little quirks. But it eats up more time than I want to admit to myself.
My Teenage Self Would Be Appalled
I wasn't always this way. I was a very high-minded teenager. Once when I was perhaps thirteen or fourteen, the magazine Modern Screen started arriving at our house with my name on it. I was both uninterested and insulted.  Who could have possibly given my name to those people? Who could imagine that I'd be interested? (Perhaps my parents were secretly suggesting I lighten up?)
Also as an adult, I stopped reading true crime for about ten years.  That habit was interrupted by my experience of violence within earshot in Varanasi, India, while I was there researching my novel Sister India.  Days after my arrival in the city, riots broke out in a long-running Hindu/Muslim dispute.  The city of a million people was put under full-time curfew that lasted, with the exception of a few open hours often in alternating neighborhoods, for two weeks. An entire population was sent to their rooms, all businesses closed.  One of those afternoons, I was on the rooftop patio of my building and heard gunfire. That and the balcony-to-balcony stories of gruesome violence nearby put me off the genre for roughly a decade. Violent crime had come too close and felt too real. Reading about more of it was not entertaining.
Interest Resurged
Then the curiosity crept back over me again. I remember then closely following a local murder trial with disgusting zest; I even sat in the courtroom one day, telling myself it was research for my fiction (I did get one good detail out of the day–a look in the eyes of the charming villain senator in Cobalt Blue) Once at a break in the proceedings, a mike was lowered between the accused and the family member he was talking with. My friend and I sitting several pews back gawked at this seeming violation of privacy. Turned out that the guy with the mike was working for the defendant, making a documentary. And a news photographer shot a picture of that happening, which appeared the next day on the front page of Raleigh's News & Observer with my friend and me  sitting prune-faced behind them showing our righteous disapproval. Made me think of the vengeful Madame DeFarge in A Tale of Two Cities, knitting while to the guillotine the tumbrels rolled.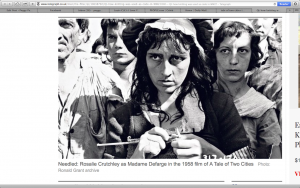 Husband Bob said to me about my avid interest in this: "Peggy, people are being hurt!" I knew that. I know that. And it still hasn't stopped me from slowing to see the wreck.
People Who Need People
My following of celebrity stories probably began with People magazine and grew slowly. The Internet made my interest catch fire.
I do want to be clear; this is not what's called "celebrity worship." It's an appetite, a craving, for gossip.
Right now, of course, cyberspace is rich with terrible stories, which is no doubt why this is on my mind.  I don't want these allegations of sexual harassment to be true, especially of a couple of men I have long admired. I am saddened by what I read of Kevin Spacey and Louis C.K. I also want the truth to come out and the harassment to stop. I feel too that the accused are paying heavily without benefit of trial, with their cancelled shows wreaking damage on a lot of other people; and I fear that the door is open for false accusations. Even so, most important, it's obviously vital to get the truth out and the situation radically changed. Eventually, I hope that the world-wide shaming of the guilty will die down and that some chance of redemption will be possible.
None of these feelings deter me from falling on my laptop every morning and ransacking Page Six, Huffington Post, England's Daily Mail, and even TMZ for fresh information.  And I check further later in the day. Won't count how many times.
So true crime and celebrity news seem to have converged, not for the first time.
Why? Why? Why?
I'd love to know why I'm so interested in any of it, a question I don't ask myself about, say, my preference for caramel ice cream. But this craving for gossip, for news of the dark side, is so intrusive of me, so–I hesitate to say it– unkind of me. Given the amount of coverage I see, I'm pretty sure I'm not the only one; but that's no consolation. I would welcome interpretations.
Avidly,
Peggy
(Further confession: one reason I'm saying all this now is that today is the day for me to go back to revising my current novel-in-progress after several weeks away from it gathering feedback. Writer John McPhee has characterized the moment of moving from the physical world to the writing as crossing an electric fence. I'm procrastinating, delaying that jolt, distracting myself with weaker jolts.)
Categories: Uncategorized
Tags: celebrity news, craving for gossip, curfew, focus on scandal, Kevin Spacey, Louis C.K., Madame Defarge, Modern Screen, news of the dark side, People magazine, true crime stories, Varanasi, wicked allure, worldwide shaming