Where to Donate? What to Do?
Dear Nicholas, I'm looking for a racial equality and justice group that pretty much agrees with me on strategy and goals. Has to be non-violent, faster-moving than simply a long-term education approach, and not insistent on total immediate dismantling of law enforcement, instead on radical rebuilding.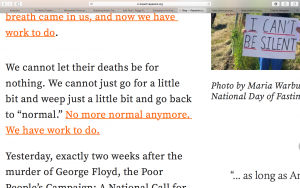 Obsessively Searching
Have been agitatedly looking, asking for recommendations on where to donate my small contributions. The search was disturbing, partly because of the need for it and  also because the most extreme stances on any side can be pretty hard to read.
Then I took a break and opened my morning devotional reading and saw this from Maya Angelou: "Do the best you can until you know better. And when you know better, do better."
How to Know Better?
I like this. At the same time, I'd like to know enough to be sure I'm not supporting something that I think might do more harm than good.
For a long time, I gave a little to a racial justice group I felt was doing right, and then started questioning their choices. I wasn't the only one. Their old leadership is gone now.  Now that I know better about their practices, I want to do better with some other outfit. But best that I don't get hung up on "trying to get it right."
The Monstrous Gap
I have no doubt that racial inequality is still monstrous and needs repairing now.
I also think that demonizing all of any group–police, boomers, bankers, Generation X, SUV drivers, white people–will not help the cause. I'm guessing that even hard-core white supremacists are more often won over by connection than by telling them how bad they are. I can only imagine how difficult that is to do for people of a race so badly abused by injustice. Murderous rage and desire for revenge are understandable.
At the same time, I am worse than unresponsive to political ranting. I have to fight the impulse to declare a ranter wrong, even if I agree with them.
Repairing the Breach
Having narrowed down the possibilities, I'm leaning toward throwing my two cents in with Repairers of the Breach, headed by North Carolina's Rev. William Barber. They're focused on what's needed rather than who they're against. "The positions are neither left nor right, nor conservative or liberal. Rather, they are morally defensible, constitutionally consistent, and economically sound." They want to retrain and demilitarize the police, protect the environment, raise the minimum wage, etc. It's a list I think could bring together the majority of us. Their stands are well-researched, thoughtfully considered and argued.

And of course there's no reason to choose only one group. I'm still awaiting other folks' ideas. And wondering what to do differently in my daily life–that I'm willing and able to do–that would be constructive.
Perturbedly,
Peggy
Categories: Uncategorized
Tags: abused by injustice, boomers, demilitarize the police, demonizing, desire for revenge, devotional reading, dismantling, do the best you can, extreme stances, law enforcement, Maya Angelou, non-violent, political ranting, racial equality and justice, racial justice group, repairers of the breach, trying to get it right, what to do differently, where to donate, white people, white supremacists, William Barber