When Indecision Starts Getting Crazy
Dear Nicholas, My step-grandbaby is a few days old, living in Krakow, Poland. My search for flights to go visit is sliding into pathological. I'm not exaggerating.  I'm trying to figure out a reasonably-priced reasonably-doable way for her granddaddy and me to go meet her. Arranging a wonderful trip should not put me into the tailspin that it has.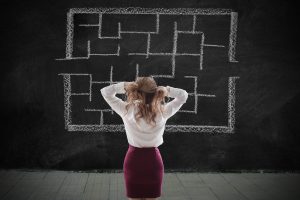 I think my surprising upset is due to a couple of factors. One is my ongoing effort to come to terms with loved ones falling ill and dying. That underlies most everything these days, and most anything can bring it to the surface.
Swimming with Sharks
Being the age I am now feels like swimming with sharks, seeing a fin go by, then seeing someone else starting to be dragged under. If I really have the faith I claim to have, then I ought to be more at peace with people suddenly or gradually disappearing.  I'm not there yet.
Possibly the arrival of this baby underlines the stage of life I'm in. Not sure about that. If I'd stayed in the marriage of my early twenties, I'd have been a step-great-grandmother long ago.
The Obsession Issue
Factor two is the fact that I lowered my dose of OCD medicine a couple of months ago, because it had started to make me forgetful. My memory is now greatly improved, but I've gotten myself into a state of crazy obsession over this travel planning. I know this is a first-world problem, not worth mentioning. I'm  extremely fortunate to be able to make this trip. However, the obsessing is interfering with my work and other activities and my state of mind. I start searching and can't quit.  This is not typical of my OCD problems, which run toward crazy fear of doing wrong, doing damage.
(Now I'm remembering the other time in my life I got this weird over something this small. I was in eighth grade and trying to decide whether to take French again in ninth grade. Silly! I won't burden you with the pros and cons, but I got weird enough that my parents were concerned.)
I keep thinking that as soon as I book flights, all will be well, so keep on, keep on. However, I know this isn't mainly a travel schedule issue. (Although I do think it can be pretty frustrating for most anyone.)
I thought I had it all worked out, only to discover that there wasn't enough layover time between flights. Curses!
Okay, enough.
On the Other Hand: Flying with Angels
The baby really is magical, even in pictures: wide-eyed and alert, lots of dark hair, so distinctly feminine at only a few days old. I've always had a weakness for babies, though I'm terrible at kids, better again once they're teenagers, not half bad at stepmother of adults. Maybe I can manage all this.
Anyway, as I said before: enough.
Your fraying friend,
Peggy
Categories: Uncategorized
Tags: age I am, at peace, book flights, come to terms, crazy fear of doing wrong, crazy obsession, doing damage, have the faith, ill and dying, into pathological, Krakow, layover time, loved ones falling ill, lowered my dose, obsessing is interfering, ocd, OCD medicine, search flights, stage of life, travel planning, travel schedule