What to Make of Madonna Videos
I feel almost obligated to be a Madonna fan. How many artists take on sex and religion and do so with such courage and success on an international scale? In fact, I am a fan of sorts. She is assuredly a terrific entertainer; she burns with passion and star power. She sure can sing.
And Madonna videos make me nervous.
Maybe that's a good thing — or maybe not. I'm not sure. I do know that feeling unsettled can lead one in new and interesting directions, can point to prejudices and highly defended wrong opinions. In this case, I'm still pondering the question, which comes to mind because her latest tour, for her Rebel Heart album, kicks off tonight, Sept. 9, in Montreal: then round the world in 64 shows.
One thing Madonna and I agree on is a sentiment in the song "Messiah" on this album: "Don't want to get to the end of my days/Saying I wasn't amazed." We also agree that sex and religion/spirituality are integrally and crucially connected.
On the other hand, pole dancers in nuns' habits feel disrespectful to me. Or, anyway, I do an inward wince on seeing this.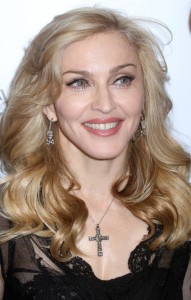 Holy Pole Dancers?
I do know that some readers of my novels feel that mixing religious icons and doctrines of different religions, as I cheerfully do, is disrespectful. I see no disrespect in this — quite the reverse. For me, the use of these simply means that I'm drawn to them, that they arise in me, that I take them each seriously.
Madonna takes both spirituality and sex seriously. And she scrambles images of both in her videos. And that makes me nervous.
I'm pretty sure this has to do with my Methodist upbringing in the 1950s and early '60s. Sunday school was not sexy. Making out was not spiritual.
My Madonna History
I was 34 years old — no kid — by the time Madonna released her first album. I wasn't keeping up with new pop music the way I had at 17. I knew who she was, heard some of the songs, didn't pay a lot of attention.
Seven years later, I ran into a surprise Madonna tribute. I was on the rooftop patio of the flat where I lived in Varanasi while researching my novel Sister India. Three girls of the 10 or 11 year-old age range were playing on the 2nd floor patio of the building next door– a space of maybe 50 feet and one skinny papaya tree between us. They waved to me. I waved back. We started a conversation.
I'd read before I came here that people sometimes asked visitors to sing a song. I'd hoped that this was not so — what an alarming custom! (Digression: my political brother Harry Payne once shared a podium with Joan Mondale in our hometown of Wilmington. He told her shortly before their talks that it was a local tradition for visiting campaigners to lead the audience in singing "America the Beautiful." Gave her a good scare for a moment there.)
These three little girls were the only people during my three-month stay to ask me to sing a song. I sang "Happy Birthday." They said, "No! No! Madonna!" And then the three of them sang a complete Madonna song with their own charming and tame version of the choreography.
The mother who was hanging laundry on the rooftop line looked rather stern. I was wowed.
I guess that's the level of Madonna videos I'm most comfortable with: the elementary school version. Maybe I'm wrong, but I doubt if that's going to change.
Where are you on this question of mixed sexual and religious imagery? Mixed icons of different religions? And why?
Categories: Uncategorized
Tags: doctrines, Harry Payne, icons, Joan Mondale, Madonna, Madonna fan, Madonna history, Madonna tribute, Messiah, pole dancers, Rebel Heart, religious icons, sex and religion, Sister India, spirituality and sex, Varanasi