Troubador of Sex and Spirit: Leonard Cohen
As a college freshman, I was pretty sure I'd discovered Leonard Cohen. I didn't hear him blasting from a lot of other record players on the hall. So it was just Leonard and me.
Then I graduated, got a newspaper job, got married, unmarried, remarried. Life and love being what they are, I somehow lost track of Leonard.
Then cometh the wistful anthem, "Hallelujah," which so many now have heard (the recording below having passed 50 million views.)
What I didn't realize — consciously — until I began reading about him on the occasion of his death, is that he is the troubadour of the blended passion of sex and spirituality, which has engaged my own writing for decades.
So he's singing on my computer now, stirring my heart, as I catch up with what everyone else seemed already to know about him.
Here's a small sample of what my researchers found:
*"He grounded spiritual longing in physical love…"
—Damian Rogers, poet
Toronto Star
*"Leonard Cohen: The singer who blended spirituality and sexuality with ease"
The Indian Express
*"In his writing, Cohen has a 'flair for fusing the erotic with the spiritual,'…"
Ottawa Citizen quoting Sylvie Simmons author of I'm Your Man: The Biography of Leonard Cohen
*"…Reluctant poet 'genius' obsessed with sex and God…."
from The Sun in the UK
*"No one can mix spirituality and sex better than Leonard Cohen, which may be the reason why his popularity has endured – and will continue to do so, seemingly forever."
From The Church Of Leonard Cohen by Joyce Marcel. American Reporter: Nov 1, 2009.
*On the song "Light as the Breeze:"
"…suggests that sexual arousal can be a form of worship….The subject's sexual love is a form of religious and spiritual worship. As we shall see, Cohen borrows images from Jewish, Christian, and Pagan traditions"
Pagan Imagery in the Work of a Modern Troubadour by Heidi Nelson Hochenedel, Ph.D.
*"Leonard Cohen, the baritone-voiced Canadian singer-songwriter who seamlessly blended spirituality and sexuality in songs like "Hallelujah," "Suzanne'"are the words that open what appears to be the majority of the internet stories on the subject, an AP wire service story reaching as far as chinapost.com
*Finally, inarguably, from the man himself in the song, "Hallelujah:"
"I remember when I moved in you and the holy dove she was moving too and every breath we drew was Hallelujah"
His son reported that his father was writing up until his very last moments.
Bless him.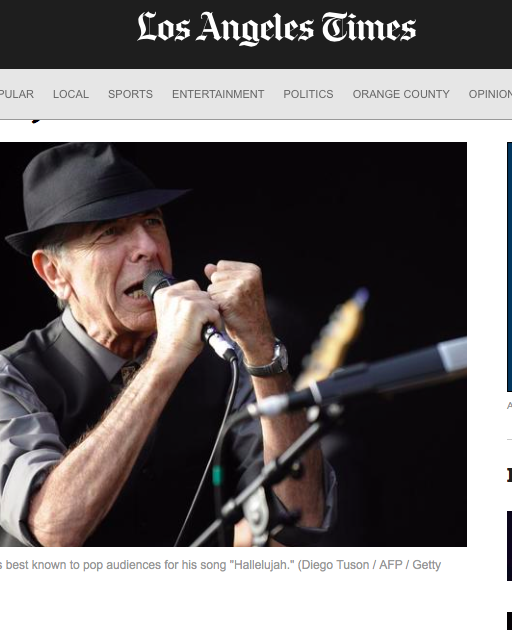 Categories: Uncategorized
Tags: Canadian singer, Cohen, erotic, Hallelujah, holy dove, Leonard, Light as the Breeze, obsessed, pagan traditions, sex and god, sex and spirit, sexual love, songwriter, spirituality and sexuality, Suzanne, troubador