The Vile Test Prep Liquid That Is Ruining My Life at the Moment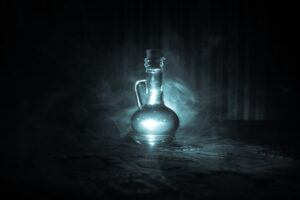 Dear Nicholas, I am a total wimp about bad smells and bad tastes and right now I'm trying to drink 32 ounces of vile medical test prep liquid that is making me miserable beyond all reason. I hate this.
I'm having a terrible time getting the vile liquid down. And I'm running behind on the vile liquid intake schedule.
People over 75 don't have to have this test and I am unfortunately only 72, so I'm making myself do it. Or trying to. One last time in my life.
A Character Issue as Well
Having such a hard time is also making me feel lacking in steel spine.
But if I try to chug the stuff, I'm at risk of a spectacular bout of nausea that will undo all that I've already "invested." That will mean all the previous hours of suffering mean nothing.
I'm angry that I feel forced to do this. But discovering later on that I have advanced colon cancer would be worse. So I keep telling myself.
Also, I can't wimp out. It's not allowed.
I wish this whole exam could be done with exploratory surgery. Just knock me out! That would be so much easier.
A bit of physical pain is a lot easier than this.
Miserably oversharing,
Peggy
Categories: Uncategorized
Tags: colonoscopy prep, miserable, nausea, prep liquid