The Small Ordeal of a Messy Illness
Dear Nicholas, I rode on a plane. Came home and got sick. I feel awful. I've caught a nasty airplane bug, I'm guessing. And I am freshly awed by the power of a wee microbe, making a short visit, to bring body and spirit to their knees. It doesn't take a monster illness to briefly undo a person–or me, anyway. A short spectacularly messy illness can do it.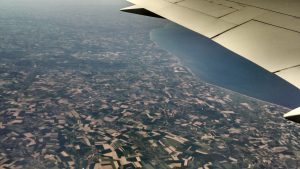 I won't burden you with the physical details–except to say that I did a load of laundry in the middle of the night, including all the bed clothes and most of the pile of (previously) clean laundry I'd left on the floor beside the bed.
Okay, I'm Being a Whiner
Just before I came down with this last night I'd been reading a story in New York magazine about a director with ALS who is managing to direct one more movie though the only thing she can move is her eyes. Wow! Me, I'm asking husband Bob to bring me every glass of water.
Never Before Have I Been So Willing to Ask for Help
Bob came down with this first, two nights before me. His doc sent us to the ER for an IV and for tests to be sure it wasn't something serious.  It isn't. It just feels like it,
I'll feel okay in a few days. Bob is at the end of day three and he's a lot better.
My Current Worry
I'm afraid I'll pass this on to other folks. If it's a norovirus, I'll be contagious for two days after the symptoms are gone.  And this  coming week is full of events. Example: my friend and office partner Carrie Knowles has a book launch on Wednesday night at Quail Ridge bookstore and a theatre production of one of her stories on Sunday. Don't want to miss these; don't want to make people sick either.
One of the strong characteristic fears of my OCD is spreading germs. I don't want to make a decision based on an ill-founded unhealthy fear.
I'll likely email my physician in the morning or call that ER doc who checked out Bob to get their opinions. It would be a good thing if I could stop thinking about it for the moment.
Blogging?
I'm amazed I'm writing anything right now, but these notes have always helped me unload the mental toxins. Also, writing is relatively easy, standing up is hard.
Sigh
I so foolishly thought I'd avoided this microbe. I've always been proud of my fierce immune system. Well, I didn't dodge it this time. And it seems to hit on so many fronts–I persistently feel like crying, for no particular reason, but can't.
I was raised to view illness as somewhat dodge-able. My mother's approach to a lot of problems was: "We're not having that." It worked amazingly well except for hurricanes and the troubles of the last year and a half of her 96-year life. Even so, she was a good nurse through our childhood diseases.
For a couple of days when Bob was sick, I thought: "I'm not having this."
Oh, well.
Send healing vibes, please.
Peggy
Categories: Uncategorized
Tags: ask for help, being a whiner, body and spirit, Carrie Knowles, contagious for two days, current worry, fierce immune system, got sick, mental toxins, microbe, nasty airplane bug, norovirus, ocd, Quail Ridge book, spreading germs, symptoms are gone, tests to be sure, unhealthy fear