Shamanism, Ecstatic Journeying, Sky-Walking
Some years ago I had the privilege of studying shamanism with my friend Kelley Harrell, author of the intriguing new book, Teen Spirit Guide to Modern Shamanism: A Beginner's Map Charting an Ancient Path.  
A shaman, I should probably explain, is someone who uses altered states of consciousness to interact with the spirit realms, often to channel these energies into this world for healing purposes. "…Even in woo-woo circles," Kelley writes, "shamanism is the fringe of the fringe."
Kelley' experience of other realms started when she was very young.  In her early childhood, she "saw spirits of both the deceased and the living…had prophetic dreams…could sense and sometimes see life force…." She began to explore her abilities when she was seventeen.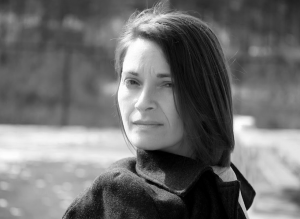 What we did in the shamanism classes was experienced through deep meditation and focus on entering a spirit realm.
On one of my trips to what she refers to as The Upper World, I found myself riding a motorcycle across the tops of clouds behind an attractive guy who was a character in my novel Cobalt Blue, a man who died in a motorcycle accident in the course of the story. 
A convoluted situation— and yet I felt a certain sexy note to the experience in my imaginal trip into a spirit world: the motorcycle, the man, the over-the-moon feel of the ride.
The entire experience, sexy note and all, had a surprising element of ecstasy. "Ecstasy" (ekstasis) literally translates to 'standing outside oneself.' It's a state of rapt joy that throws one's sensibility out of the ordinary.
Ecstasy can describe both spiritual and erotic experience, one as easily as the other.  Both are, in the same sense, transporting. The ability to stand outside one's self and one's usual perceptions and limits is key to intimacy with both the spirit world, however one conceives it, and with another person.
In Teen Spirit Guide to Modern Shamanism Kelley notes the need for "skywalkers" to surrender to their imaginations, which could also be thought of as standing outside oneself. Having studied with her and experienced this to some extent myself, I found several quotes from her book especially poignant:
"Shamanic journeying, also called ecstatic journeying, is the trance state we enter to visit the spirit world."
"To a shaman, everything has the potential to be ecstatic." Sex is "a ready-made vehicle for humans to experience ecstasy…."
"The heart is not in the earthly realm (lower chakras) or the spiritual one (upper chakras)–it's between them. Through the challenges of the heart chakra  we learn to bridge our physical being with our spiritual awareness…When we don't learn this natural awareness of ourselves, we become adults who can't own our own ecstasy."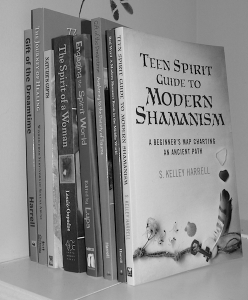 In addition to her books, Kelley Harrell writes weekly for The Huffington Post. Her Teen Spirit Guide to Modern Shamanism is a good book on the subject for adults as well as teens, and not simply for those who have spent years knowing they are "different in a way that defied vocabulary." This is clear and useful instruction for any would-be sky-walker who wants to expand his or her worlds.
Categories: Uncategorized
Tags: altered state, Cobalt Blue, ecstasy, erotic experience, journeying, Kelley Harrell, life force, novel, spirit realms, spirits, teen, Teen Spirit Guide to Modern Shamanism, The Upper World