Ringing The Radiation Bell
Dear Nicholas, Yesterday morning Bob rang the end-of-radiation bell in the hospital hall. Ringing three times is a tradition–now somewhat controversial–for hitting a milestone in cancer treatment.
It wasn't a wildly exuberant moment. We were late finding out about this ceremony and so hadn't been imagining it. Also, we're both a little tired.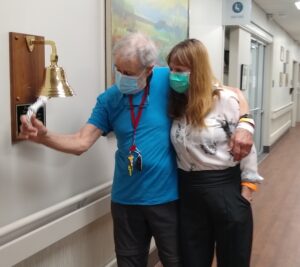 The Admiral's Cancer Radiation Bell
I read that the custom likely began in 1996 when a rear admiral brought a brass bell to his last treatment at the University of Texas cancer center to follow the naval way of ringing a bell to indicate a job completed. Since then bells have started ringing in hospital halls across the  country.
For some people, the bell-ringing is a gathering, the start of a party. The Texas center reports one patient bringing a dozen friends in evening dresses who then attended a formal dinner.
What's Not To Like?
The practice has also, to my surprise, become controversial. When I first saw online references to objections to this small celebration, I was puzzled about how anyone could object. I soon learned that the sound of the bell can be upsetting to patients who will be in treatment for the rest of their lives and to those for whom the end of treatment means the end of hope.
Thinking and Re-Thinking
So some are arguing for the end of such bell-ringing, with another quieter recognition of the milestone instead.
Must We Hide Joy and Celebration?
I have mixed feelings about this, but I lean heavily in favor of letting bells continue to ring. The world would be grim indeed if we had to make sure no one with troubles heard the sounds of celebration.
And Yet…
Another reason has arisen for not ringing the bell. A study at USC has found that the bell-ringers tend to be more distressed later than those who finished a round of treatment and left the bell unrung. Why? The researcher theorizes that the emotional arousal of the moment makes the cancer treatment harder to forget; it "locks in" painful memories of the experience.
It's a surprising finding. Certainly no one should feel obligated to ring a bell. Maybe it's better for all to let the moment quietly pass. But let's not let the custom of celebration pass, when properly timed it can lock in memories of good things.
At My House
I doubt Bob's bell-ringing will lock in bad memories. His course of radiation has been so much easier than many. Only in the last couple of weeks has he felt any side effects, and these have been limited to waves of fatigue and muscle weakness passing in a few hours or a couple of days.
And we didn't wear formalwear and head to a formal dinner. Instead we took a mid-morning run through the Biscuitville drive-through.
Bob's bacon biscuit was a dietary indulgence but probably won't cause him lingering emotional pain.
Still, it was so nice to have good medical news and will be just fine not to drive to Duke Regional Hospital in north Durham tomorrow morning.
And More…
I have other happy medical news.  The friend whose serious illness and medical crisis I was grieving  months ago has rallied. She's back to nearly normal, feels good, and still has good years ahead of her. I am happy.
Not all medical news is bad. Not all celebrations create bad memories. Fortunately.  One way or another, we do need to keep on celebrating.
Peggy
Later: at dinner we broke out Bob's get-well present from our friends in Seattle, which unlocked   good memories. Perhaps we'll keep finding ways to celebrate for a while.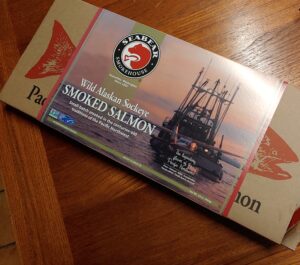 Categories: Uncategorized
Tags: admiral's cancer, controversial, Duke Regional Hospital, emotional arousal, end of treatment, end-of-radiation, finding ways to celebrate, good years ahead, grieving, hospital halls, keep on celebrating, lock in memories, memories of good things, milestone in cancer treatment, muscle weakness, must we hide joy, objections, quieter recognition, ringing three times, side effects, University of Texas