Pink Cloud of the Divine?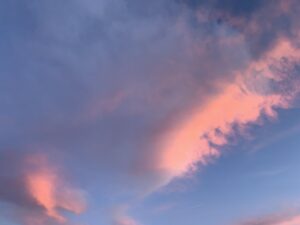 Dear Nicholas, I was lying on the floor staring out the hall window– the spot where we get the best phone reception– involved in conversation about a friend who is seriously ill. While I watched, a pink cloud filled half the window frame, covering a huge expanse of sky. Pink light? I moved around to look at it from various angles. It was not a trick of the window glass. The cloud was pink. My first thought: God. My second thought: come on, Peggy, God is not a pink cloud.
Not My First Pink Cloud
But I have a little bit of history with God and pink light.
In my first novel, Revelation the main character is a minister who hears the voice of God, which turns out to be a disruptive experience for him. God is not what he had expected or imagined. He remembers scornfully and wistfully his childhood image of God as "a column of pink light."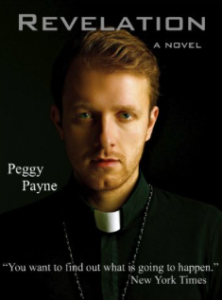 I had never at the time I wrote this had any thoughts myself of God appearing as pink light. The idea emerged from the character whose story I was writing.
Pink and Gold and Russet Rainbow
Later I ran across a thrift-shop print by an artist I'd long liked, Jean-Michel Folon, who did many New Yorker covers and who favored images like rainbows and hearts without being sentimental. In much of his work, he managed to be an unusual combination, as  a whimsical and tender-hearted surrealist.
The print that hangs–well, actually leans against a filing cabinet– in my office shows a rainbow of gold, pink, russet, red coming to rest on a man nearly obscured by the colors. Not entirely pink and not a cloud, but still…I think of that man as Swain, the minister in my novel. It's nice for me to see him there in the light.
Next chapter in my pink-light history occurred years later in Virginia Beach, Virginia at the holistic New Age style store Heritage Natural Market. This beach is home to psychic and faith-healer Edgar Cayce's Association for Research and Enlightenment and the business was begun fifty years ago initially to sell ingredients that Cayce's readings recommended. It grew into a New Age department store and services center.
Some friends and I were in that store one afternoon when a woman was doing aura photographs, which are supposed to show a person's personality through the colors in the aura around them. In this process, the sitter puts their hands on  biofeedback receptors, which are said to measure the person's electromagnetic field and translate the information into colors that reveal personality traits. The photo of the person is superimposed with the image of the colors.
So it's a machine that purports to tell me about myself. How could I resist?
The Floating Pink Wisp
When I sat down for the picture-taking, I thought, "Okay, God, how about you show up in this picture, too?"
Minutes later I took a look at myself enveloped in color. It was mostly blue and white with a block of orange in one corner. And there was a wide trailing wisp of pink across the picture. The photographer pointed to the pink and said, "What did you do, summon God?"
Intellectually, I don't believe that God shows up as pink vapor. But I have to say I was pleased. Even though interpretations of the colors are hardly consistent.
Other sources define pink as meaning gentle, romantic, artistic, and aware of God as love; blue as sensitive, solitary, peaceful, and highly verbal; orange as creative, sensual, happy. It certainly is notable how flattering all these colors are; but as I understand it, the "lower vibrations" or downside of the colors is, for example, when gentle is passive and romantic is murderously possessive, etc. I don't know how you tell if the colors in the pictures have low vibes.
A Stubborn Woman Who Just Came from Yoga Class
The woman in the store said it all somewhat differently: pink is God, orange is stubborn, and blue and white "looks like you just came from a yoga class."
In any event, I've never forgotten that streak of pink floating across the photo.
And then today, in the midst of a seriously troubling conversation, the window half-filled with a pink cloud. The other half was bright blue and white. It wasn't sunset and it wasn't dawn. It was a little after 1 p.m. and it hung there pink in the window for about a half an hour.
So for the first time, I did the ultimate in spiritual seeking, I Googled "God pink cloud light divine." Turns out it's not just me.  I found a book titled God Is A Pink Cloud and another Is God Pink? "Pink cloud" is also a term used by some in 12-step programs to describe the initial euphoria when an addict takes the step "Let go and let God." And now that I think about it there are a lot of Jesus and angel pictures that are heavy on pink. Maybe pink clouds are a universal archetypal image. I didn't realize it.
Again I can't say I believe that God is or that God sends pink streaks or pink clouds. Feels too magical and sentimental and somehow juvenile.
However, I felt cheered, also intrigued, this afternoon by the sight. I see no reason to ever turn those reactions away.
Peggy

Categories: Uncategorized
Tags: angel pictures, aura photographs, childhood image of God, column of pink light, Edgar Cayce, Folon, hears the voice of God, Heritage Natural Market, pink cloud, pink light, rainbow of gold, rainbows and hearts, spiritual seeking, summon God, tell me about myself, universal archetypal image, Virginia Beach