Personality Changes from Staying Home?
Dear Nicholas, I think I'm getting to be more of an introvert.
I understand this happens with age, but staying home for seven months (excepting runs to grocery, bank drive-through, etc) seems to have speeded up the process. When I moved my office plants home in early March, I felt a little silly imagining I wouldn't be in the next Friday to water them. I surely didn't think my plants and I–or my husband–would have the opportunity for personality changes from staying home.
Surprise, Surprise
I would never have imagined that I could settle quite so comfortably–with the benefit of Zoom– into a very quiet routine in a somewhat limited space.If I thought I would never see friends and family in person again, I'd be grief-stricken, horrified, and enraged. But I do expect to see folks again eventually. And with the help of technology, I've felt well-connected throughout these seven months so far.
Before & After
Before this lock-down experience, I didn't like even one day working at home. Now I'm comfortable almost every day.
Before this experience, I was the sociable one in our marriage and Bob was the reclusive one. Once when I told a friend that I would come to her party but without Bob, she said, "He's already been out this year." Funny, but not an exaggeration.
Suddenly Chatty
Now Bob is having long phone conversations with friends and itching to get together with people–in person! I'm not in a huge rush as long as I know I'll see folks eventually.
One reason for my own quiescence is that I'm being as conservative as possible in warding off the virus. I am determined that Bob is going to stay alive. If he should catch the bug, it's not going to be from me.
That's a serious motivator to stay home. But then there's also the feeling of settling with startling ease into  write-read-weed-Netflix-exercise-and-technology-assisted-staying-connected-to-people.
My gardening, even in the worst heat, has been tremendously helpful. Note this weekend's plant activity: cascades of beautyberry, the autumn orange-ing of the Jerusalem artichoke.  This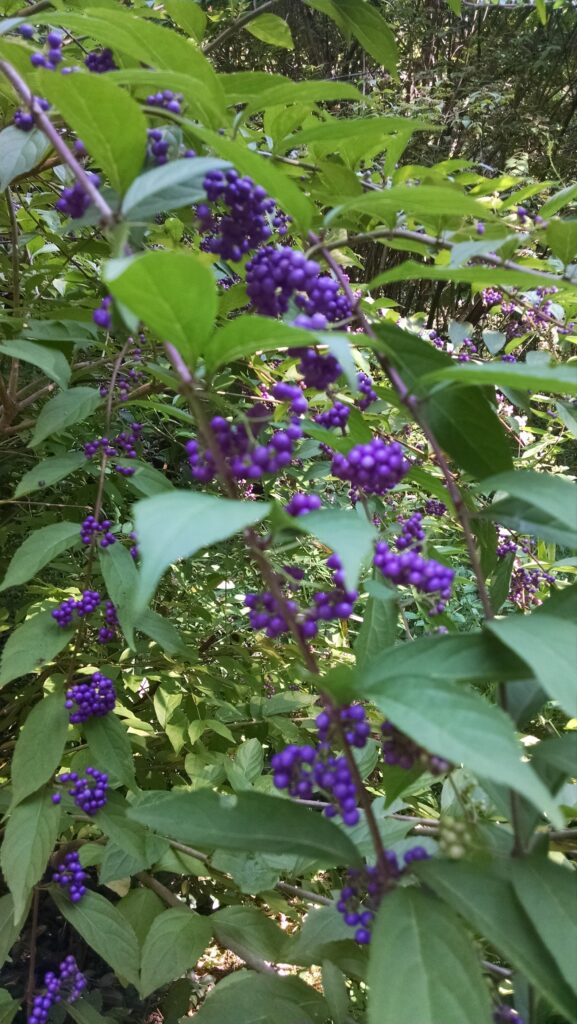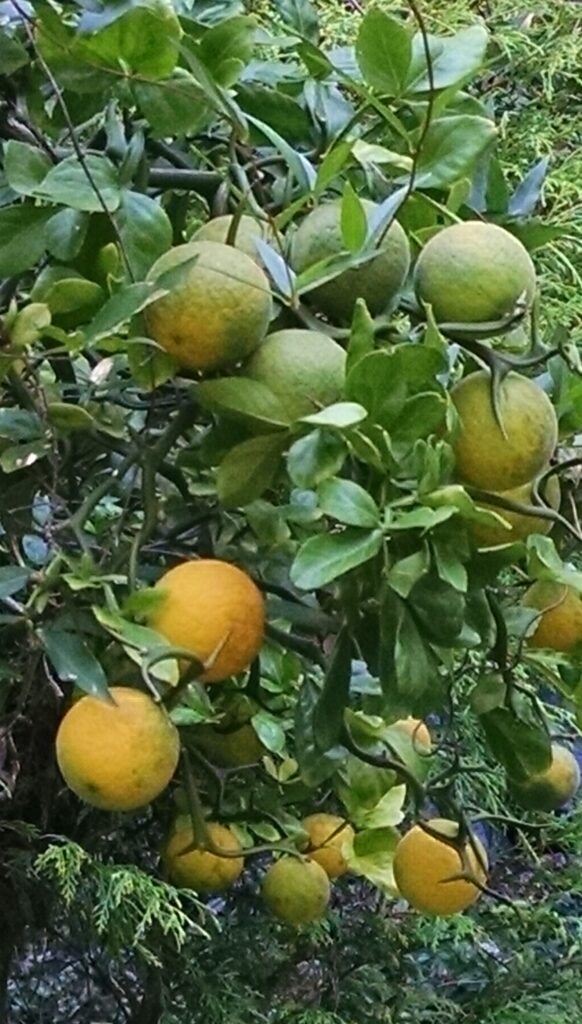 comfortable situation is possible for me because Bob and I are living together. If I were living alone and having to stay home, I'd be quite plainly bonkers by now. If I were having to stay indoors? I don't even want to think about it.
Definite Personality Changes from Staying Home
With the situation as it is, Bob and I have changed roles, though our relationship hasn't changed. We've been getting along fine, though I gripe more about clutter than I did when I wasn't here as much.
For years, I'd been thinking I was a clear-cut ambivert– right slam in the middle between intro- and extro-.
That's pretty much what those cute personality tests would always tell me. Now I'm slipping-sliding in the intro direction–except for another startling change: I keep having fantasies about entertaining, parties, having people over for dinner, which we have done very little of because it requires cleaning up the house. Maybe I just want people to come and look at my improved garden patch. I don't know. Makes no sense.
Are lots of people having personality changes? Are you?
Peggy
#quarantinepersonality #covidlife
Categories: Uncategorized
Tags: ambivert, changed roles, definite personality changes, get together with people, having personality changes, having to stay indoors, introvert, lock-down experience, motivator to stay home, personality changes, reclusive one, sociable one, staying home, working at home