New to the Vulnerable Category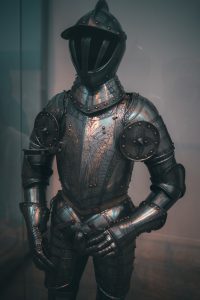 Dear Nicholas, Because I'm healthy and was a well-fed well-behaved child, I'm not used to thinking of myself in the at-risk or vulnerable category. It's something of a shock now to be considered because of my age–a modest 71–vulnerable to catching coronavirus and dying.
I don't believe I'm going to catch this bug and die. But I'm still being careful–I don't want to die, I don't want my husband to get sick and die, and I don't want to die of stupidity.
Here in North Carolina we're to move today to Phase Two of the loosening of restrictions. Restaurants are allowed to open at 50% capacity, etc. But as a vulnerable person, married and in quarantine with a vulnerable person, I'm not eating out tonight. In fact, I think it'll probably be riskier with more people out and about.
For a Swashbuckling Old Lady…
This is so different from the way I'm accustomed to thinking about risk and about myself. I don't much like my new attitude. I prefer to view myself as a swashbuckling individual of only slightly advanced age. Even though I've failed utterly at my attempts to learn to surf, which ended last summer because no matter what I do, the waves go too fast.
(The swashbuckling old lady is a personality type that hasn't had adequate screen time or press in our youth-focused culture.) As one of my brothers said to me not long ago, "Did you always know you were a tomboy?"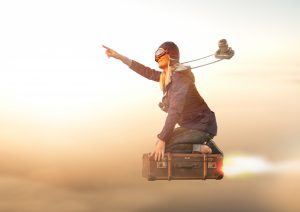 Keeping Company in the Vulnerable Category
I wonder whether I would have become so careful if I were living alone. I think of my new carefulness as largely motivated by keeping Husband Bob from getting the virus. He's a bit older than I am and has had heart surgery, so he's even deeper than I into The Vulnerable Category. (See below, our two goldfish mimicking Bob and me in quarantine.)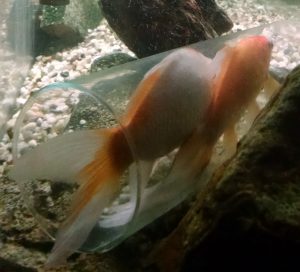 However, I think I might stay home even if I were just protecting myself  (and others out in the world.) I'm weirdly content with my current quiet schedule: working at home, eating canned goods, playing in the yard, hanging with Bob, and reading. I'm fortunate not to be trapped in a tiny city apartment with no access to outdoors, fortunate not to be furloughed or unemployed.
Just In Time
And–maybe I'm for once taking my own vulnerability seriously. If so, this is a good time to be doing it. I remember your once saying to me, Nicholas, that we're all equally vulnerable. I never did understand that. Maybe I didn't want to.
Still, this onset of good judgment is for me a bit of a comeuppance. And as is often true with a comeuppance, it's not a bit too soon.
Somewhat less brashly yours,
Peggy
#vulnerable #swashbucklingoldlady
Categories: Uncategorized
Tags: access to outdoors, at-risk, being careful, catching coronavirus, comeuppance, die of stupidity, equally vulnerable, get sick and die, healthy, in quarantine, new carefulness, personality type, Phase Two, stay home, swashbuckling old lady, thinking about risk, vulnerability seriously, vulnerable, vulnerable person