Instead of Meditating…
Dear Nicholas, Right now (and perhaps forever) I'm coloring instead of meditating. For me, for the moment, it works better.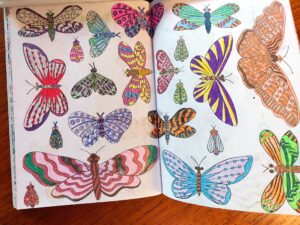 I'd been dutifully and impatiently, sometimes resentfully, doing the meditative mindful breathing routine every morning for a while. Then I realized I was getting a more relaxed, free-of-mental-buzz experience out of the time I spend coloring–and feeling a little silly for doing it.
I'm hoping that recognizing the meditative effects will help me stop chiding myself for what seems a juvenile "waste of time." It's hard not to think of it as the hobby of second-graders. I often think: I shouldn't be doing this, I should be drawing or painting, doing "original work."
But that feels like work to me. Takes too much effort.
And so I keep on with my coloring books, thinking "maybe I'll do some drawing later tonight."
I'm now resolving that the coloring is doing good things for my health, mental and physical. Here is my logic. Coloring induces a meditative altered state for me, with a drastic reduction in unwanted thoughts. This state reduces the unhealthy effects of stress. Therefore, coloring is health-improving.   (This is based on the law of classic logic called modus ponens: if A then B and if A then C, there fore if A then C. This is the only learning I've retained from the logic course I took in order to meet the math requirement without taking calculus.) Result:  I will no longer be at all embarrassed by my coloring habit.
The Color-Me-Mindful idea is not news. What's changed is that I'm now convinced.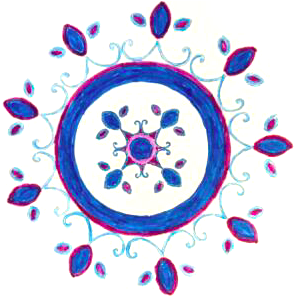 The coloring book industry has largely promoted the activity as relaxing, mind-clearing, anti-anxiety activity. And there's research that bears this out. The journal of the American Art Therapy Association cites experiments in which "coloring significantly reduced anxiety and increased mindfulness." Participants also scored higher after coloring on generating original ideas.
The Peaceful Garden
Many book titles emphasize the mindfulness slant. My own stack of completed books includes The Peaceful Garden, The Mindfulness Coloring Book, volumes one and two, Buddhist Mandalas, etc.  An artist friend who was staying with us saw this stack and said, "If you're going to do it, you should sign them." I haven't gotten around to that. Instead, I'm posting a few here.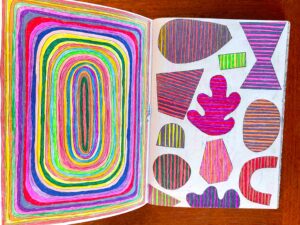 Certainly a lot of people have found it appealing. The big jump in enthusiasm happened in 2015, with sales of adult coloring books rising from $1 million in 2014 to $12 million the next year. Sales have been lower since but still impressive.
A Hot Movie Star?
There are coloring book subjects I haven't explored and many many lists of "best coloring books" of the year.  One subgenre is drawings of swear words, for getting out angry frustration. Lots and lots of those in Amazon's top 100 sellers, one especially for call center workers. There's also a fan coloring book, advertised on Amazon as "featuring drawings of hot movie star, Ryan Gosling" and titles including Drinking Animals, Pastel Goth, People of Walmart, The Splat, Stoner, and a book devoted entirely to sloths. I'll probably stick with gardens and mandalas.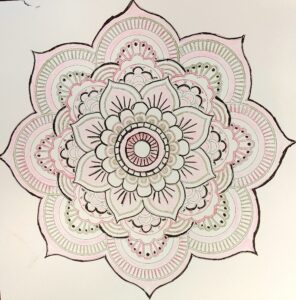 It's good thing, right?
Peggy
#coloringbooks #colormecalm #mindfulcoloring
Categories: Uncategorized
Tags: altered state, anti-anxiety, coloring book industry, coloring books, coloring habit, generating original ideas, health-improving, meditating, meditative effects, meditative mindful, mindful breathing, mindfulness coloring book, original work, reduction in unwanted thoughts, swear words, time I spend coloring, works better more relaxed