In a Sudden Writing Muddle: Email to My Therapist
Dear Nicholas, All week I've been feeling that I've really hit my stride on the book I'm working on. This afternoon my trusty writing group vigorously disagreed with me. They liked earlier chapters and really really didn't like what I read today. So now I'm in a writing muddle.
How to Write Religious Experience
This is a book I've had in process off and on for many years, a combination biography/ memoir about a mystic/Druid/artist who fascinates me. It's about my search for who she was and what she knew and what I discover along the way about her, myself, and the nature of the spirit world and life after death. A project both quirky and dauntingly ambitious.
How to Talk with Spirits and Not Be a Weirdo
I want to know how this woman managed to be a respected and effective person in daily life, a normal person, a leader, and at the same time to feel herself in regular conversation with Athena, King Arthur and a host of spirits and deities.
As I've gone deeper into her story, I've started wanting the style of writing to change, to become looser; the structure to become less structured, the voice to sound less "written." I wanted the narration to lose self-consciousness, to be dwarfed or broken or radically altered by the subject of religious experience.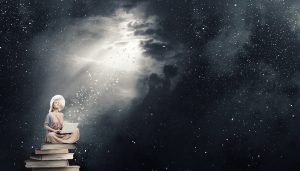 Not The Reaction I Expected
What I read this afternoon to my loyal critics–I've been in this Thursday afternoon group for 36 years–did not go over well at all.  Instead they felt it was flat, formless, lacking in a sense of something building up.  Certainly that was not my intent.
In discussing it with them, I suddenly remembered an important moment for me long ago.
My Moment with a Famous Critic
It was back in the mid-80s; I had finished a draft of my first novel Revelation–about a troubled minister who hears the voice of God, an event which brings him to a personal and professional crisis.  Around that time, I attended a talk at UNC by famed literary critic Alfred Kazin and heard, with excitement, him saying that contemporary fiction wasn't adequately dealing with religious experience.
My thought: I have just the book he needs to read!
So the next day I went back to the campus with my 300 + pages of manuscript and found the office where he was headquartering as a writer-in-residence. I walked in and found the man himself and told him of my novel of a troubled guy's religious experience. He looked at the pile of paper I was carrying in utter dismay.
But, bless his heart, he took it and said he'd have a look.
Then The Message Arrived
Days passed and I received a note from him. He said the writing was indeed professional and "fluid." But he felt it was too fluid, that the style should be disrupted, broken by the subject matter.
I hadn't thought about that message in many years until it came to mind again this afternoon, when I realized that that was how I was feeling about what I'm writing now. I'd begun to feel that the subject was too important for self-conscious language and a neat structure.
Words Can Express…
I've never been one who believed that there are feelings or experiences that "Words cannot express…" I think words can express whatever we feel and think and experience. Quite a few fine writers have proved that to my satisfaction. Words can get across what I'm trying to describe. I have to once again figure out how.
I usually find myself in agreement, in large measure, with my writing group; at least I think that with any criticism they're on to something. They're no doubt on to something now: that in these two chapters I haven't yet pulled off what I'm after. And using feedback is as important as anything a writer can learn.
Oh, well. I will look at it all again–when enough time has passed for me to have more objectivity.
Muddling Perseverantly On…
Right now, I think I must just keep going, muddling along, letting the story be what it will for the moment.
But I sure did think I had hit my stride and that all who heard these pages would be in amazed agreement. What a writing muddle, what a bummer!
Peggy
Categories: Uncategorized
Tags: Alfred Kazin, dealing with religious experience, famous critic, fluid, have more objectivity, letting the story be, muddling, neat structure, not be a weirdo, novel of a troubled guy, onto something, personal and professional crisis, religious experience, revelation, self-conscious language, style should be disrupted, talk with spirits, the book he needs to read, UNC, using feedback, what I'm writing now, writer-in-residence, writing group