Happy, Hurried, Nervous: The Birth of A Book
Dear Nicholas, It's the nervous part I want to talk about. My new novel comes out on May 1. As always, I'm afraid hardly anyone will read it, that I'll stand at a podium for a reading/book signing with a very small audience, made up largely of my husband. So I'm in a mad flurry of trying to get the book attention. (The title, by the way, is My Life on Earth and Elsewhere.)
I've read that 100,000 new books go up on Amazon every month. Maybe best not to dwell on that.
I'm not one of those coy writers who feel that book promotion is shameful and  beneath them. In fact, I consider getting one's book out to readers to be a moral obligation, a duty that is part of the creation process and can't be ignored. The calling to write a particular story feels urgent. I never understand quite why, but each one seems to be built into my psyche, part of my DNA. So I write a story for a powerful reason, though I never know what it is.  And getting a book to the point of publication takes me quite a few years. I can't then let it languish unread.
Motivation!
Of course fame and fortune as an author would be nice. Neither of those is ever very likely. However, it's crucial to make the story accessible to its natural readership.
Another reason to press on: it's embarrassing to throw a book signing and have hardly anyone come. Most writers have had something like that happen at some point. I read about a famous poet who went to give a reading at a university. No one came to introduce him and when it was time for him to talk, he got up and looked out and saw three or four students seated in the auditorium. Pluckily, he began to read. After a couple of poems, one of the kids called out, "Hey, buddy, we're trying to get some studying done here." An unusually awful example. And this was a famous poet.
Traditional Jumpiness
Pre-pub nerves are not uncommon. I had a writer tell me about six months out from his book's publication that he was tense and anxious most of the time, having big difficulty sleeping. Six months!
I'm not quite that wound up. I do meditate, get some exercise, deal with other matters. Still, one can get a little jumpy about how it's going to go.
I'll Be Happy Forever If I Can Just…
So many writers launched on writing their first novel say something on the order of, "If I can just get this published at all… just get it to ten friends and some relatives…I'll be happy." And then they accomplish that and most are still hungry. Working with other writers as I do, I've seen this again and again.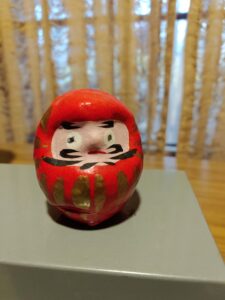 My friend novelist Angela Davis-Gardner brought me from Japan a little figure called a daruma. Its eyes were white, one for the owner to fill in with a black dot while making a wish, the second to get its black dot when the wish came true.
The Second Eye
My wish was for my novel Sister India to be published. When that happened, I knew I'd be satisfied. It was published twenty-two years ago, was a New York Times Notable Book of the Year. I inked in the black dot in the second eye.
The daruma sits on a shelf in my office. I see it every day. Its job now is to remind me to that I'm already fortunate enough to have a daruma with two complete eyes.  And so maybe I can do the book promotion with pleasure rather than agitation.
Sample efforts
Here are my two Facebook posts from this past weekend, intended to get the book attention.
The starry costume for celebrating this out-among-the-stars story: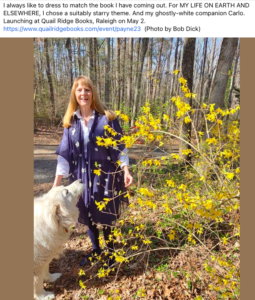 And, some good news: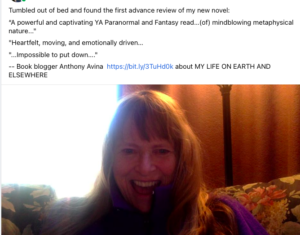 In the moments I forget the matter of results, book promotion is a lot of fun.
Peggy
Categories: Uncategorized
Tags: Angela Davis-Gardner, book promotion, calling to write, daruma, difficulty sleeping, fame and fortune as an author, pre-pub nerves, shameful, trying to get the book attention, write a story