Feeling Thankful for Freddie Mercury
Dear Nicholas, I'd never heard of the guy until a few months ago or his band Queen. Never expected to be feeling thankful for Freddie Mercury on this Thanksgiving holiday.
My acquaintance with his music came about in a curious manner.
At Sea With Scaramouches
By chance, I'd  joined the first (and for me, last) rehearsal of a pick-up chorus, on a cruise ship. We were to sing something called "Bohemian Rhapsody."
"What is this?" said the woman beside me, clutching her copy of the lengthy lyrics. I didn't know. First, I guessed it was from Marriage of Figaro. Then, I thought, no, it's Gilbert & Sullivan. Equally improbable.
I'd attended on a whim, because husband Bob, who has a beautiful tenor voice, was interested. Me? Several years earlier, I had dragged my own near-bass mutterings to a "Singing for Non-Singers" class and emerged improved. Bob said my voice had gone from "unpleasant to pleasant." High praise, indeed.
A Musical Challenge
If you know the song "Bohemian Rhapsody," you're aware that the voices seem to come from quickly-changing different directions. And the parts overlap. The assembled passenger singers tried very hard, over and over and over. We made a remarkable hash of it, at the level of a drunken rendering of "Happy Birthday." What a bunch of scaramouches we were (Italian for clown, one of the unfamiliar words in the song.) As I said, I didn't go back.
(When the group sang the song at the talent show on the last night, it was good! I was astounded! Then the emcee acknowledged the added talent of the professional troupe, the Royal Caribbean singers, who had graciously joined in.)
I Have to See It?
In recent weeks, my brother Franc has told me on average every other day that I must go see the movie "Bohemian Rhapsody." He has never been so insistent.
Couldn't find any friends longing to go, so I stopped on my way home from work and went to the movie by myself.
Now I understand.  And I'm so glad I went. I walked out of that theatre floating on such a feeling of triumph, the triumph of one guy's art and authenticity over every difficulty, including his own death. As I've written here before, my family has been dealing with loss in recent weeks.
Thankful for Freddie Mercury and Queen
The power of the music and the man's energy, his full-force life force, and the over-powering upwellings of love from his live  audiences, as large as 130,000 –all of that made me remember the book Death Be Not Proud, a father's tribute to the courage of his dying seventeen year-old son.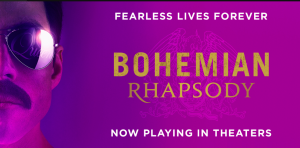 I strongly felt once again that such high-spiritedness can't simply go away, but is instead hanging out in the next room.
For this, I am thankful. Wishing you a good holiday….
Love,
Peggy
My favorite minute of the music:
Categories: Uncategorized
Tags: art and authenticity, Bohemian Rhapsody, dealing with loss, Death Be Not Proud, feeling of triumph, Freddie Mercury, life force, live audiences, Queen, Royal Caribbean, scaramouche, shipboard singers, Thanksgiving holiday, the movie, upwellings of love