Emergency Room Entrance: Email to My Therapist
Dear Nicholas, Monday night was the fifth rush to the Emergency Room entrance for one or another of my family in a mere six months. You might think that I'd start to know the drill, but this time in spite of my best efforts, I'm holding up a little less well.
My spirits are excellent (because all three of my loved ones are still with us and perking along pretty well.) However, this time my usually fierce immune system let down its guard a bit.
A BUG BITE?
The short version of what brought us back to Duke Hospital is: Bob rather dramatically came down with what is now judged to likely be a virus from a tick bite. (I'm going to spare you all medical details.) We at first thought he was having a stroke.
At the ER, he was attended to immediately– and then tested and tested and taken to a hospital room about 7 hours later.
Seven hours in any ER could likely change a person's view of life. So many sick people and their freaked-out relatives and sleepy children. And the guy in the waiting room who was hallucinating and shouting, who abruptly stopped and got up and asked politely when he would be seen. The woman at the desk said, "Sir, you checked yourself out of here an hour ago."  He went back to his chair and resumed shouting.
A WORLD I RARELY SEE
Every time I've walked into an Emergency Room entrance in the last six months, I've remembered scenes from a wonderful memoir by an ER doctor: Paul Austin's Something for the Pain.  Spending years doing this work is almost like living in a different culture from the ordinary traffic-office-grocery daylight life. My glimpses of it have been "broadening" the way travel is supposed to be.
Monday night I sat with Bob in his curtained bay, except for one period when a procedure required a sterile environment. About halfway through the time I was with him, I made a joke about having a scratchy throat and maybe I'd caught or given him whatever was ailing him. (It was pretty scary until there was at least a solid idea of what was going on.)
Scratchy throat turned into something like a stomach bug and by the next night the nurse — an angel! a saint! –was taking care of both of us.
JUST CALL ME CLOONEY
I started wearing a surgical mask to keep from further infecting others. I wear it now while I'm writing this on the daybed in Bob's hospital room. When I drove home mid-afternoon today to pick up some stuff Bob wanted, e-reader, etc. I forgot to take it off outside the hospital.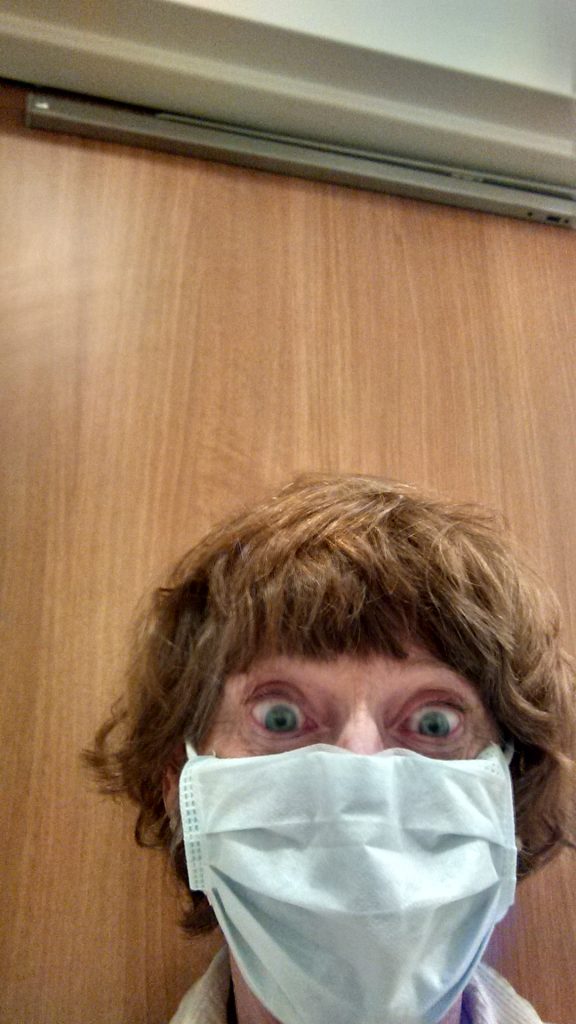 Not bespoke. Not going to be a surgeon. This is my fierce goddess Kali face!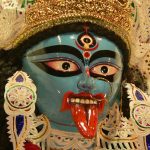 When I had trouble using the parking deck payment machine, a mini-crowd of half a dozen people tried, with extravagant sweetness, to help me. It was noticeable and a little puzzling. Then I remembered: I still had that mask on. They probably thought I was coming from the nearby chemo clinic.
One other change in my experience this time. On the first two visits, I took the stairs from room to ground level cafeteria and back. I wanted the exercise. This time: elevator all the way.
Bob is scheduled to go home tomorrow, will likely need a few days to get his strength back. He again has been well taken care of here and I am grateful.  He also has had too many ill-health adventures lately.  My literate chum Angela Davis-Gardner sent a sympathy e-mail playing off an Emily Dickinson poem: "Too much!!! Unfair!!! I protest to the universe (that never spoke to me)." Emily D's version: "This is my letter to the world,/ That never wrote to me…."
FAIR?
As long as we keep having these happy endings, hard-won as they are, I'll feel the universe has been exceptionally kind. But then I haven't been the one with the IV in my arm.
Categories: Uncategorized
Tags: Angela Davis-Gardner, chemo clinic, Clooney, Duke Hospital, Duke's Medical Pavilion, emergency room, emergency room entrance, Emily Dickinson, er, hospital room, immune system, memoir by an ER doctor, Paul Austin, scratchy throat, Something for the Pain, stomach bug, stroke, surgical mask, taking care, tick bite, view of life, virus from a tick bite