Do The Best You Can?
Dear Nicholas, The advice to "Do the best you can" is usually reassuring to hear–means: doesn't have to be perfect, just give it a good shot. However, when it's important, doing my best takes on a different urgency. And here's the problem: how do we ever know if we've done the best we can?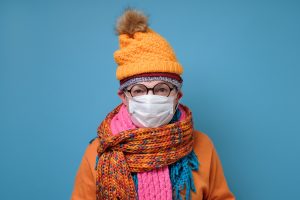 A Tricky Question
How do I know if I've done my best at sanitizing the driver's seat area after I've been to the grocery store? I could always keep on spraying and wiping. Does the fact that at the bank drive-through the pneumatic tube sat momentarily in my lap mean I should quickly throw my jeans in the wash?
So Far, So Good
I'm happy to report that, in spite of my difficulties with obsessive-compulsive disorder, I'm doing pretty well at dealing psychologically with the viral menace. And so are those of my relatives who wrestle with the same ailment.
My Theory
This apparent health is a surprise and I have a theory about how it's possible. I think it's the fact that everybody in the world is having to be hyper-careful, and the need for this vigilance and the behaviors involved are public knowledge. Carefulness, checking, and fear of contaminating are now a good idea; they are not wacky or furtive or suffered in isolation. Doing this stuff does not mean I'm weird.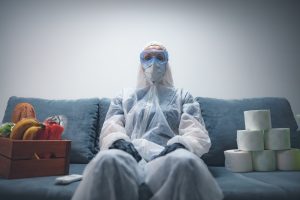 I've been public about this difficulty of mine for a long time. And that has helped. For one thing, it has given me company in dealing with the problem. Now the entire world taking on a similar hyper-vigilance is definitely companionable. (I'm also hugely lucky that during lockdown weeks I can work at home. I haven't lost a job.)
But "Do The Best You Can"?
Again I ask: how would I ever know when I've done my best? In so many areas of life, including sanitizing, it's not measurably possible, at least outside of an operating room or a lab.
And for once the choices are at the life-and-death level of importance: Husband Bob, who has had heart troubles, must not get this virus.
What Is The Right Best Protection?
What I think is needed is guidelines, even if I make them up myself: spray a suspicious surface twice, no more and no less. That sounds suspiciously like a ritual: on a continuum with the guy who had to use eighteen napkins at every meal. However, a reasonable ritual is not such a bad idea.
A Reasonable Ritual
I will employ a carefully chosen guideline if I need it. So far, though, I seem to be roughly the same amount of slightly weird as everyone else.
Ever wishing you good health,
Peggy
Categories: Uncategorized
Tags: checking, dealing psychologically, done my best, done the best we can, fear of contaminating, furtive, hyper-careful, lockdown weeks, mean I'm weird, obsessive-compulsive disorder, ocd, reasonable ritual, right best protection, vigilance, virus