Career Success Barbie! Visionary Barbie!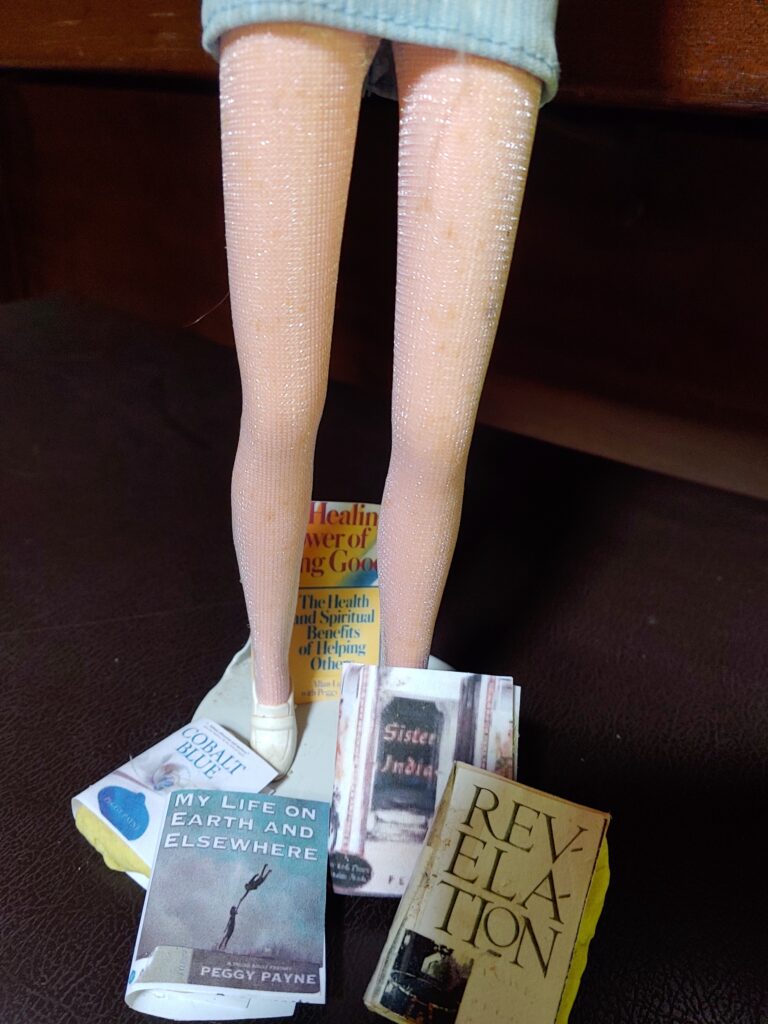 Dear Nicholas, About 25 years ago, feeling discouraged about my work, I gave a Barbie doll (knock-off) a make-over with my face and hair. I surrounded her with tiny Play-doh versions of books I meant to publish as well as the one I already had. Inspirational Barbie! Visionary Barbie!
She had come equipped with a quill pen in one hand and a phone in the other. Her pale blue too-short skirt was something I would dare to wear myself. For the little books strewn about her feet, I made intricately detailed covers with gold awards stickers, blurbs, etc.
I set her before me on the window sill of my office. She became Aspirational Barbie!. Many-book Barbie!
How I Came To Do a Doll Make-Over
For weeks, I'd had a card on my desk that had a floral arrangement on the front, very delicate, mostly freesia. It was pretty. I'd glance at it now and then.
One day, I realized I was seeing two floral arrangements, on an echo of the other.  The second one was real, three dimensional, a vase full of flowers, as it happened, the same kind of flowers as in the picture. Without realizing what I was doing, I had replicated the picture I'd so often seen. Uncharacteristically, I'd bought a bunch of flowers. And they happened to be, like the ones on the card, freesia. The arrangements were almost identical. I had "manifested" the flowers.
A Moment of Recognition
It seemed that what I kept before me, I would reproduce–for real. And so I bought the doll, put my face on her, and gave her a stack of books.
I now have about as many books out as I made in miniature. And like the tiny model, one of them even has a little award emblem on it. (New York Times Notable Book of the Year)  Shall I give Barbie credit?
Future Barbie
I'm glad to be reminded of this experience. I'm calling a new version of her back into action. Updated Barbie will be a writer whose books sell very very well. Bestseller Barbie. Exactly how to represent that visually I'm not sure yet. I'll figure it out. We'll see if she still has her powers.
Peggy
#writerbarbie   #careersuccessbarbie
Categories: Uncategorized
Tags: Barbie, book Barbie, discouraged about my work, doll make-over, her powers, inspirational, knock-off, moment of recognition, New York Times, Notable Bookmanifested, writer whose books sell