Birthdaying and the Age of Change
Dear Nicholas, Something about turning 73 Saturday made me sleepy. Naps are not my usual form of birthdaying, but this time it was irresistible. Delicious sofa sleep most of the afternoon in the company of sleepy dogs. And then…!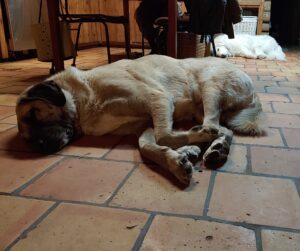 The Age of Change
Last time I wrote I was depressed about moving out of my office and the scattering of loved ones to illness, death, and far-flung new adventures. It lasted about a week and I got over it. Mostly. For the moment. I've decided to view this period of my life as the Age of Change, and who knows what exciting new possibilities may develop. Embarking on the Age of Change seems to require a lot of energy and some naps. (Just now when I tried to type the word "the" in "the age of change," auto-correct changed "the" to "fate." Change does seem to be our fate. Auto-correct is correct about that, though how it got it from the word "the" is baffling.)
My birthday celebration with Bob did evolve in unexpected directions. I finally roused about 5 p.m. and we headed out to dinner at our favorite pizza place, Napoli, in Carrboro. To avoid covid we had bundled up to a ridiculous thickness, as we were planning to eat under heaters outdoors. Never mind that it was 34 degrees. When we got there, we found a sign on the door saying they were out of pizza and no one was in sight.
A Night of Little Surprises
So we looked for a place that was serving outdoors and didn't find it. A wonderful Greek restaurant that usually serves on a patio, Kipo's, reported that it was too cold to do that. So we got reckless and ate indoors there at the far end of the bar.
This was not what we had planned, but I was happy.  Within minutes of our arrival, a bouzouki player tuned up a few feet (somewhat more than six) away from us,  playing some Greek-American fusion, including "Happy Birthday" because there was a large table of twenty-somethings also celebrating. Then came a generous glass of cold retsina, the piney-tasting Greek wine I love. It brought back a delightful memory–digression ahead–of a night decades ago in my travel-writing days, when I was to write a story on a cruise that departed from the port of Athens.
On the night of our arrival there, I wasn't sleepy and went out by myself to a late-ish outdoor dinner in sight of the Parthenon, temple to Athena, that seemed to be hanging like a moon in the night sky. I asked for retsina though it wasn't on the menu and was brought a tall water glass full. I drank it, happily watching the touristy foot traffic pass. Then set out to walk back to my hotel, which was only about six blocks away. Possibly just a bit tipsy, I walked and walked but couldn't find it. Cabs were not much in evidence either. Finally, I discovered one parked and waked the driver by banging on his window. He found the little hotel finally, the entrance to the place  hardly wider than the doorway. I found the entire evening glorious, blessed by Athena.
And Saturday night's post-nap retsina brought all that back. (I hope I'm in the Age of Change and not the Age of Living in Memories.)
Not Ready for Memory Lane
By the time, we were finishing our dinner in Chapel Hill, some waiters and a lot of the celebrating twenty-somethings were doing a Greek line dance around the room. Of course I got up and joined them (with mask on.) I could no more resist the call of the evocative Zorba-type music than I did the afternoon nap.
It was an excellent memorable birthday. I'm interested to see what happens next.
Peggy
Categories: Uncategorized
Tags: avoid covid, birthday celebration, birthdaying, blessed by Athena, cold retsina, depressed, eat under heaters, Greek restaurant in Chapel Hill. bouzouki player, Kipo's, living in memories, Napoli, our fate, scattering of loved ones, sleepy dogs, temple to Athena, the age of change, Zorba-type music